Environmental Conservation Activities
We pursue activities that facilitate the preservation of biodiversity.
With the help of each local community, Mitsubishi Power takes part in tree planting, the removal of dry wood and the processing of felled trees through the participation of its employees.
Activities Underway
---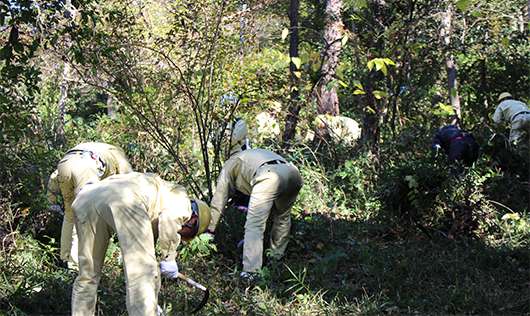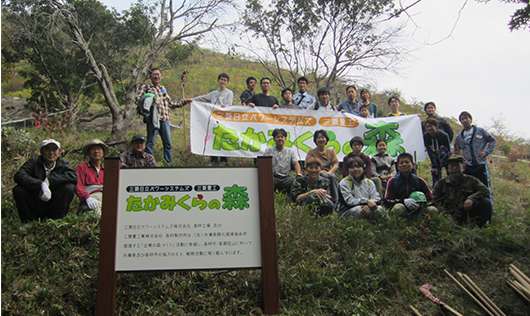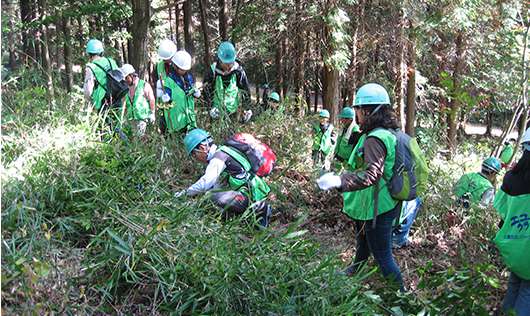 Details of Activities
---
Location
Main Activities
Hitachi City, Ibaraki Prefecture
Participation in volunteer mountain development activities for cherry trees on Mt. Kurakakeyama organized by Hitachi City
Volunteers each move to their assigned work areas where they energetically go about clearing away overgrowth on the forest floor, weed vines, trimming eurya trees, disposing of decomposed or felled trees, and collecting trash.
Moving forward, we will continue to help maintain and develop cherry trees as one of Hitachi City' s precious assets.
Takasago City, Hyogo Prefecture
Corporate forest development: Takamikura Forest
We take part in a corporate forest development initiative organized by Hyogo Prefecture (Greening Promotion Association) and have signed an action agreement with Takasago City, Hyogo Prefecture.
Kure City, Hiroshima Prefecture
Participation in volunteer activities where prefectural residents gather for Yama-no-hi ("Mountain Day").
The activity involved trimming unutilized bamboo on Mt. Noro in Kure City (around the Noro Kogen Lodge).
Higashi-Hiroshima City, Hiroshima Prefecture
Participation in mountain groundwork volunteer activities
Improvement work including tree thinning and undergrowth moving operations are carried out on Mt. Ryuozan in Higashi-Hiroshima City.
Nagasaki City
Environmental conservation activities in aguri-hill
While observing the nature around aguri-hill in Nagasaki City, participants engage in activities such as maintaining small trees and cultivating mushrooms.