As a company that responds to the expectations of society by delivering stable supply of electric power and providing solutions to environmental issues through its advanced technologies and products, Mitsubishi Power aims to secure a highly transparent management structure by following the laws, regulations, social norms and the strengthening of its corporate governance, internal controls, and compliance efforts.
Corporate Governance Structure
---
The Board meetings of Mitsubishi Power are held once a month to discuss matters stipulated by laws and regulations and other important company matters.
Attendance at the board meetings of part-time directors and statutory auditors enhance the management oversight function, and also adopt various perspectives into management decisions.
Statutory auditors participate in board meetings and management meetings in order to gain information necessary for conducting audits of management and business operations.
Establishment of Internal Control System
---
In accordance with laws and regulations, Mitsubishi Power adopts the "Basic Policy on the Establishment of an Internal Control System" during the board meeting. This policy enhances the directorial functions of the Board of Directors, creates a risk-based management system, sets up a compliance promotion structure, strengthens the management system between Mitsubishi Power and global group companies, and ensures the authority of statutory auditor.
In addition, the status of these activities is reported annually to the Mitsubishi Power Board of Directors in order to confirm the effectiveness of the company's Internal Control System.
Compliance Promotion Structure
---
Mitsubishi Power Compliance Committee was established in February 2014 to monitor company-wide compliance with laws, regulations and social norms and to promote fair and honest business practices.
The Compliance Committee is chaired by the senior general manager of the Management & Administration Division and consists of representative members from each Works as well as senior general managers and directors of Administrative Divisions and Sales Divisions from Headquarters. Committee meetings are held twice a year to devise compliance promotion plans applicable throughout the company and to check the progress of compliance activities and other related tasks.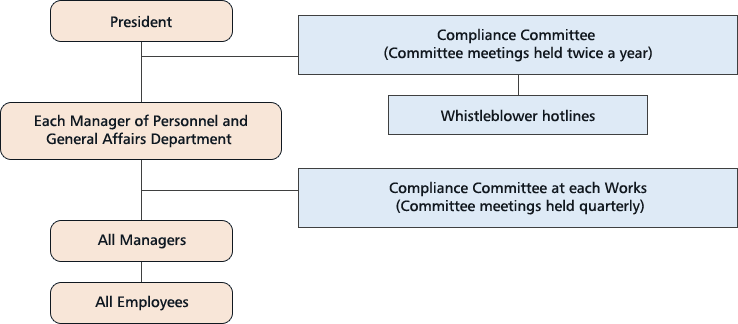 Whistleblower Hotlines
---
Mitsubishi Power has set up exclusive hotlines for employees to consult and report any incidents that appear suspicious or violate the company's code of conduct. The Compliance Committee promptly investigates all hotline reports and takes appropriate action accordingly.
Moreover, Mitsubishi Heavy Industries' internal and external whistleblower hotlines are available to provide employees with an easy and optional means for reporting incidents. In the process of investigating hotline reports, Mitsubishi Power places the highest priority on protecting the rights of informants and in abiding by the laws and regulations whereby "the name of the informant shall not be disclosed without his/her prior consent" and "no informant shall be subjected to any unfair treatment on account of making the report."