SINGAPORE (November 02, 2020) – Mitsubishi Power, Ltd., a subsidiary of Mitsubishi Heavy Industries (MHI) Group, has won two awards at the Asian Power Awards 2020 in the Innovative Power Technology of the Year - Japan and Power Plant Upgrade of the Year – Japan categories. Mitsubishi Power received both awards for T-Point 2, its state-of-the-art combined cycle power plant validation facility.
Like its forerunner T-Point, T-Point 2 is the only commercially operating power plant in the world specifically built to validate new power solutions. It was commissioned in April 2020 and located within Takasago Works in Hyogo Prefecture, Japan, which also houses centers for research and development, design, manufacturing, and short-term component testing.
Connected to the grid, it is also the only plant of its type in the world to function as both a technology demonstrator as well as an electric power producer and supplier.
The combined cycle power plant validation facility entered full commercial operation in July 2020 with an enhanced J-Series Air-Cooled (JAC) gas turbine that sets the record for output and efficiency. It has the industry's highest turbine inlet temperature at 1,650°C and a record-setting combined cycle efficiency greater than 64 per cent. This greater efficiency also means that lower carbon emissions and heat loss are achieved, thus significantly reducing the environmental impact of T-Point 2.
The facility boasts a robust long-term validation process that minimizes risk for customers and gives assurance of product performance and durability even before installation. To achieve this, Mitsubishi Power validates its new gas turbine designs and digital solutions with grid connectivity for a minimum of 8,000 hours under real operating conditions, which is equivalent to nearly one year of normal operation.
T-Point 2 is en route to becoming the first autonomous combined cycle power plant in the world using TOMONI™, a customizable suite of user-driven, digital power plant solutions fueled by cutting-edge analytics to increase power plant efficiency and profitability. Embedded with artificial intelligence technology, TOMONI allows operators to improve system controls, run plants more efficiently, and optimize plant performance and reliability while maintaining operational flexibility to mitigate intermittencies in renewable power generation. 
Osamu Ono, Managing Director and CEO of Mitsubishi Power Asia Pacific, spoke of the company's mission to bring the most advanced energy solutions to market. "The awards that we received for T-Point 2 are a testament to our commitment to develop innovative power generation technology and solutions," he said.
"We recognize the need to ensure that energy remains reliable and affordable, while we also work to minimize the environmental impact of power generation. We continue to engage closely with customers, governments, utilities, industry leaders and our sister companies within the MHI Group to also address the foremost energy challenge of our time: creating an energy future that works for people and the planet."
The presentation of the 16th edition of the awards, which recognize ground-breaking projects and trailblazing initiatives in the region's power sector, was held during a virtual ceremony on October 30, 2020.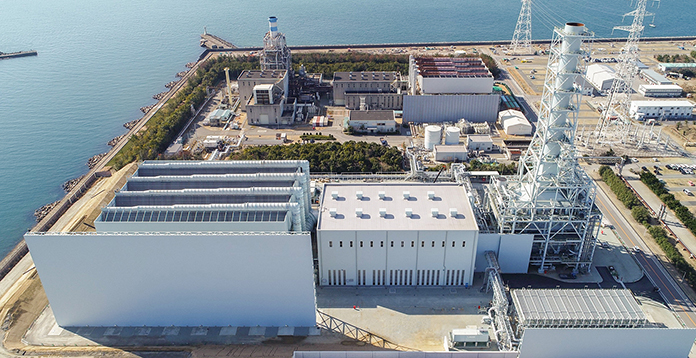 About Mitsubishi Power Asia Pacific Pte. Ltd.
Mitsubishi Power Asia Pacific Pte. Ltd. is a part of Mitsubishi Power, Ltd., an industry-leading energy solutions provider that has applied innovative engineering to bring reliable, affordable, and efficient power to the world for more than 100 years. The company's headquarters is in Singapore and supports the growth of key markets in the region such as Bangladesh, Indonesia, Malaysia, Philippines, Thailand and Vietnam. With deep knowledge and understanding of Asia's evolving energy needs, Mitsubishi Power Asia Pacific Pte. Ltd. is a leader in powering the region's development by ensuring a secure and reliable energy supply for all. Through its cutting-edge technologies, best-in-class products and strategic local partnerships, it is committed to paving the way for countries, economies and communities in Asia to transition to a low-carbon and sustainable energy future.
---