Mitsubishi Power to equip Singapore's Open Cycle Gas Turbine power station with state-of-the-art hydrogen-ready gas turbines
• The 680MW open cycle gas turbine (OCGT) power station is being developed by a consortium led by Jurong Engineering Limited with Mitsubishi Power and will reach 100% load in early 2025.
• Mitsubishi Power will supply a pair of 340MW M701F-series gas turbines capable of 30% hydrogen co-firing, which can be rapidly deployed to meet energy shortfalls.
• The groundbreaking ceremony was witnessed by Minister of Manpower and Second Minister for Trade and Industry Dr. Tan See Leng.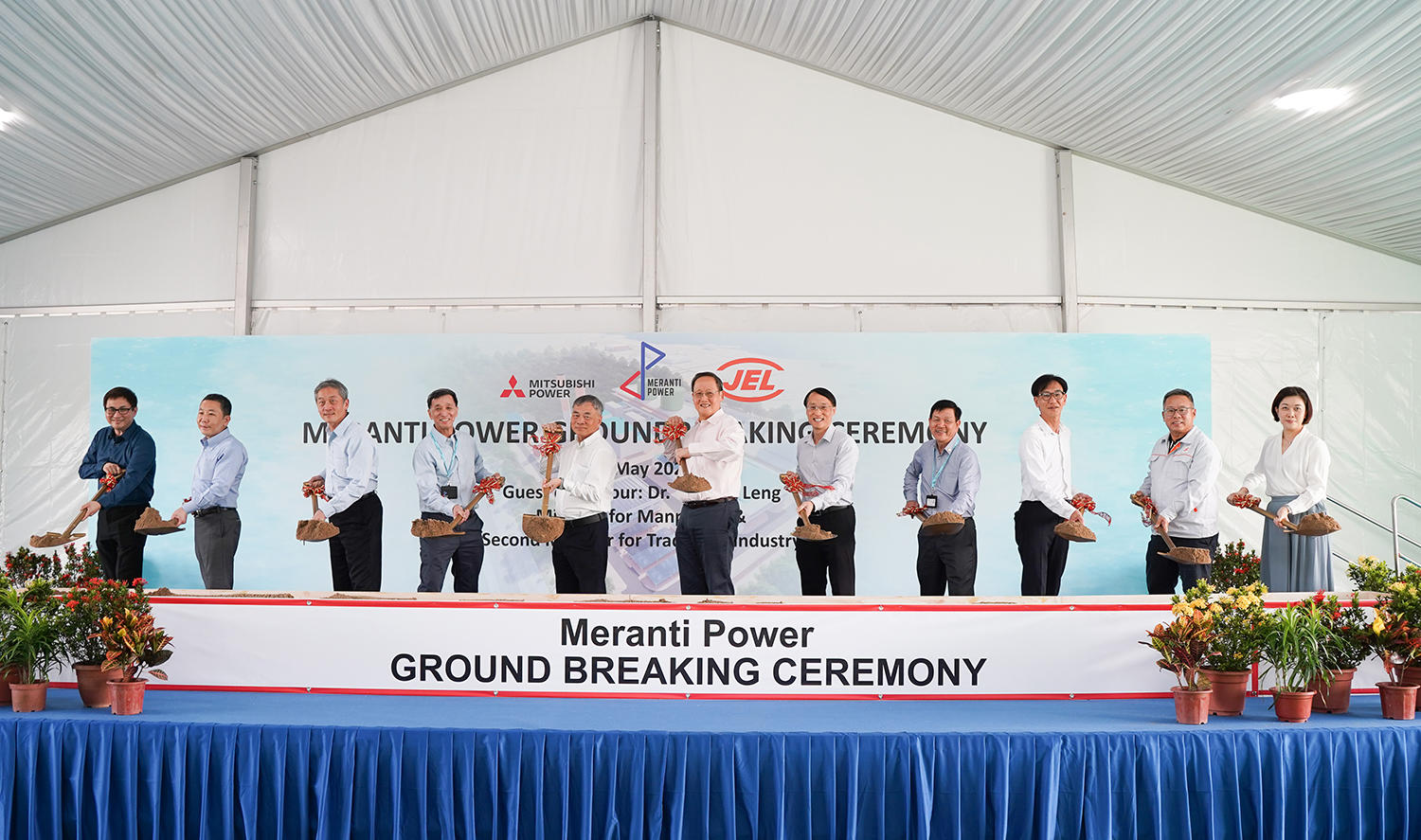 Singapore, May 19, 2023 - Meranti Power, a wholly owned subsidiary of Singapore's Energy Market Authority, today broke ground on its first-ever power station. The groundbreaking ceremony was graced by Minister for Manpower and Second Minister for Trade and Industry Dr. Tan See Leng and many industry players. A consortium led by Jurong Engineering Limited (JEL) and comprising Mitsubishi Power, a power solutions brand of Mitsubishi Heavy Industries, Ltd. (MHI), will design, manufacture, procure and construct the 680MW power station. It is expected to be in commercial operation by mid-2025.
Situated on Jurong Island, the new facility will feature an open cycle gas turbine (OCGT) configuration capable of fast start up and rapidly ramping up power production to deliver electricity on demand. Once fully operational, the power station will help minimize the risk of energy disruption and enhance overall grid stability in Singapore.
As part of the consortium, Mitsubishi Power will design and manufacture two 340MW M701F-Series gas turbines and generators and also supply related auxiliary equipment. F-Series gas turbines have a long history with 312 units sold globally and accumulated more than 20 million operating hours. On top of this proven technology in ensuring the reliable power supply in Singapore, the gas turbines are designed to operate with a 30% hydrogen fuel mix and can be configured for 100% hydrogen firing in the future. JEL will undertake design and supply of Balance of Plant (BOP) equipment and overall construction works for the power station. AECOM is engaged as the Owner's Engineer to oversee project management and implementation.
A 10-year long-term service agreement (LTSA) for gas turbines and generators was also awarded to Mitsubishi Power to support the stable commercial operation of the power station.
Tan Chor Kiat, Managing Director of Meranti Power, said: "Incorporating rapid-response gas turbines into our power grid is a significant step towards ensuring stable and reliable power for end-users. Being hydrogen-ready, this power plant will also support Singapore's efforts to transition to lower-carbon fuel sources. We look forward to working with our trusted partners Mitsubishi Power and Jurong Engineering to bring this innovative project to fruition."
Takao Tsukui, Executive Vice President of Mitsubishi Power, Ltd., said: "It is our great honor to be involved in this important project that will contribute to the stable supply of electricity in Singapore, and we are confident our proven F-series gas turbines will deliver reliable electricity in rapid response to the changing demands of its energy needs. We stand strong in our commitment to support Singapore's national energy strategy and net zero ambitions by 2050. By developing and installing hydrogen-ready power generation solutions with industry-leading performance and efficiency, we are doing our part to drive the energy transition in the country and usher in a sustainable future for all."
Mitsubishi Power is developing hydrogen power stations globally including Singapore, and remains committed to the country's goal of a carbon neutral future.
About Mitsubishi Power
Mitsubishi Power is a power solutions brand of Mitsubishi Heavy Industries, Ltd. (MHI). Across more than 30 countries worldwide, Mitsubishi Power designs, manufactures and maintains equipment and systems that drive decarbonization and ensure delivery of reliable power around the world. Among its solutions are a wide range of gas turbines including hydrogen-fueled gas turbines, solid-oxide fuel cells (SOFCs), and air quality control systems (AQCS). Committed to providing exemplary service and working with customers to imagine the future of energy, Mitsubishi Power is also spearheading the development of the digital power plant through its suite of AI-enabled TOMONI® solutions.
For more information, please visit https://power.mhi.com.
Press Contact
For Mitsubishi Power
Corporate Communication Department
Mitsubishi Heavy Industries, Ltd.
Email:[email protected]
Sophia Wee
APAC Communications
Mitsubishi Power Asia Pacific
Email:[email protected]
---