Mitsubishi Power Hosts First Seminar with Government and Industry Leaders to Explore Technologies for Philippines' Energy Future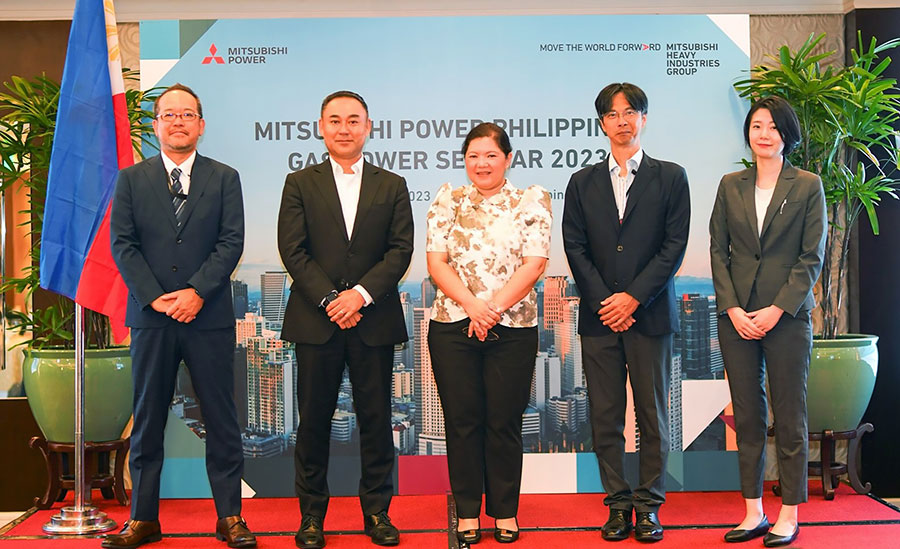 Singapore, 1 September 2023 - Mitsubishi Power, a power solutions brand of Mitsubishi Heavy Industries, today held its first-ever Mitsubishi Power Philippines Gas Power Seminar in Manila. The seminar served as a platform for knowledge-sharing and upskilling for the industry, highlighting the company's latest advancements within the region and its industry-leading gas turbine technologies and services that can help address the energy needs of the Philippines.
The seminar was attended by Hon. Monalisa C. Dimalanta, Chairperson and CEO of Energy and Regulatory Commission (ERC) as well as local energy industry leaders, customers and partners.
During the seminar, participants in the country were given an exclusive virtual live tour of Takasago Hydrogen Park - the world's first center for validation of hydrogen-related technologies situated in Hyogo, Japan. The immersive tour provided participants with firsthand insights into the intricacies of the hydrogen value chain, from production to storage and power generation.
The event also featured presentations and speeches from Mitsubishi Power executives, covering updates on the business, gas turbine performance enhancements, decarbonization technologies such as hydrogen co-firing capabilities, and comprehensive after-sales services supporting the delivery of more stable and sustainable electricity across the country.
Hon. Monalisa C. Dimalanta, Chairperson and CEO of Energy and Regulatory Commission, shared in her keynote address: "ERC is committed to facilitate a stable energy transition in the Philippines that harnesses clean alternative energy solutions. Through working together with prominent industry players and innovative solutions providers, such as Mitsubishi Power, we remain steadfast in our active pursuit of a range of energy solutions to provide more sustainable, dependable and cost-effective energy for the nation."
Kazuki Ishikura, Senior Vice President of Sales and Marketing, Mitsubishi Power Asia Pacific, said in his opening address: "As a leading global provider of power generation solutions for over 40 years in Philippines, Mitsubishi Power has been instrumental in the development of multiple power plants across the country. The heart of our operations in the Philippines lies in our dedicated and skilled workforce of over 1,000 individuals. Mitsubishi Power team is committed to meet the dynamic energy demands of Filipino communities through our most efficient and reliable gas turbines, and pave the way towards a more sustainable energy future for the country."
For over four decades, Mitsubishi Power has been a key energy solutions provider in the Philippines, supplying boilers, gas turbines and steam turbines to local power providers. Its high-performance large-capacity M501G gas turbines have been powering the Ilijan Combined Cycle Power Plant in Calabarzon since 2002. Philippines is also home to a Remote Monitoring Centre (RMC) which provides state-of-the-art round-the-clock remote monitoring for power plant operation and maintenance.
Mitsubishi Power is a recognized sole power system OEM with comprehensive manufacturing and engineering capabilities in the Philippines. Mitsubishi Power leverages its proximity to customers to provide a diverse range of products and services to meet the evolving requirements and needs of power plants with a quick response time. We aim to be a trusted partner for total plant solutions, sharing the aspirations of local power plant owners and developers in building a cleaner energy future for the Philippines.
For more information and latest updates on the 2023 Gas Power Seminar in Philippines, follow Mitsubishi Power Asia Pacific's LinkedIn page.
About Mitsubishi Power
Mitsubishi Power is a power solutions brand of Mitsubishi Heavy Industries, Ltd. (MHI). Across more than 30 countries worldwide, Mitsubishi Power designs, manufactures and maintains equipment and systems that drive decarbonization and ensure delivery of reliable power around the world. Among its solutions are a wide range of gas turbines including hydrogen-fueled gas turbines, solid-oxide fuel cells (SOFCs), and air quality control systems (AQCS). Committed to providing exemplary service and working with customers to imagine the future of energy, Mitsubishi Power is also spearheading the development of the digital power plant through its suite of AI-enabled TOMONI® solutions.
For more information, please visit https://power.mhi.com.
Press Contact
Corporate Communication Department
Mitsubishi Heavy Industries, Ltd.
Email:[email protected]
Sophia Wee
APAC Communications
Mitsubishi Power Asia Pacific
Email:[email protected]
---