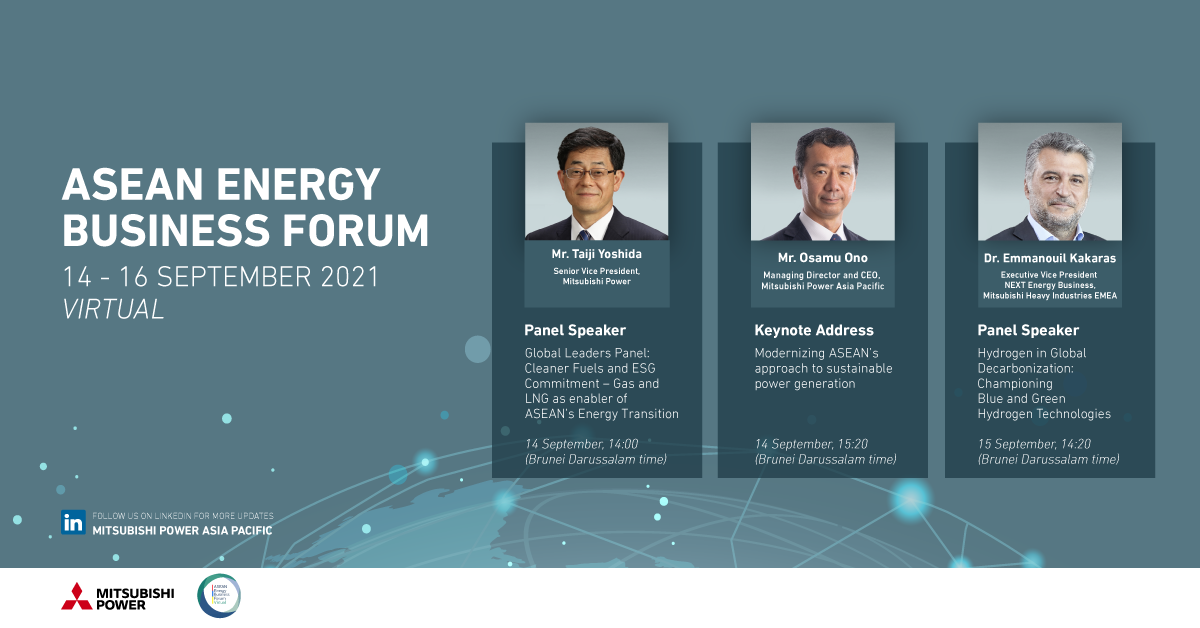 YOKOHAMA, JAPAN (September 7, 2021) – Mitsubishi Power, Ltd., a wholly owned subsidiary of Mitsubishi Heavy Industries (MHI) Group, is participating in the upcoming ASEAN Energy Business Forum 2021 (AEBF 2021) from September 14th to 16th 2021. Global and regional executives, Mr. Taiji Yoshida, Senior Vice President, Mitsubishi Power; Mr. Osamu Ono, Managing Director and CEO, Mitsubishi Power Asia Pacific and Dr. Emmanouil Kakaras, Executive Vice President NEXT Energy Business, Mitsubishi Heavy Industries EMEA will be speaking at the event.
The event will see Mitsubishi Power sharing information about its efforts to accelerate ASEAN's energy transition and deliver reliable power with low or zero-carbon power generation technologies.
"Balancing decarbonization with affordability and stability of power supply can be complex – especially with ASEAN's diverse economies and needs. We look forward to convening with policy makers, energy industry thought leaders and local energy suppliers, to discuss and share best practices on how we can work with the industry to transition away from carbon-intensive energy generation, while increasing energy security, accessibility and affordability in the region", shared Mr. Osamu Ono.
At the strategic conference, Mr. Taiji Yoshida, Mr. Osamu Ono, and Dr. Emmanouil Kakaras alongside key energy and industry leaders will also discuss ASEAN's renewable energy future and sustainability vision, as well as roles, potential uses and solutions around liquefied natural gas (LNG) and hydrogen, at the following sessions:
14 September 2021, 14:00 (Brunei Darussalam time): Global Leaders Panel: Cleaner Fuels and ESG Commitment – Gas and LNG as Enabler of ASEAN's Energy Transition  – Panel session
14 September 2021, 15:20 (Brunei Darussalam time): Mitsubishi Power's Role in Modernizing ASEAN's approach to sustainable power generation – Keynote address
15 September 2021, 14:20 (Brunei Darussalam time): Hydrogen in Global Decarbonization: Championing Blue and Green Hydrogen Technologies – Panel session
Attendees of AEBF 2021 can view Mitsubishi Power's products and solutions at a specially designed virtual booth during the conference. Registration for the virtual event is available here, and for more information on AEBF, please visit the website at: https://www.aebf.asia/virtual/
About Mitsubishi Power Asia Pacific Pte. Ltd.
Mitsubishi Power Asia Pacific Pte. Ltd. is a part of Mitsubishi Power, Ltd., an industry-leading energy solutions provider that has applied innovative engineering to bring reliable, affordable, and efficient power to the world for more than 100 years. The company's headquarters is in Singapore and supports the growth of key markets in the region such as Bangladesh, Indonesia, Malaysia, Philippines, Thailand and Vietnam. With deep knowledge and understanding of Asia's evolving energy needs, Mitsubishi Power Asia Pacific Pte. Ltd. is a leader in powering the region's development by ensuring a secure and reliable energy supply for all. Through its cutting-edge technologies, best-in-class products and strategic local partnerships, it is committed to paving the way for countries, economies and communities in Asia to transition to a low-carbon and sustainable energy future.
---