Mitsubishi Power to Participate in Upcoming Philippine Society of Mechanical Engineers 69th National Convention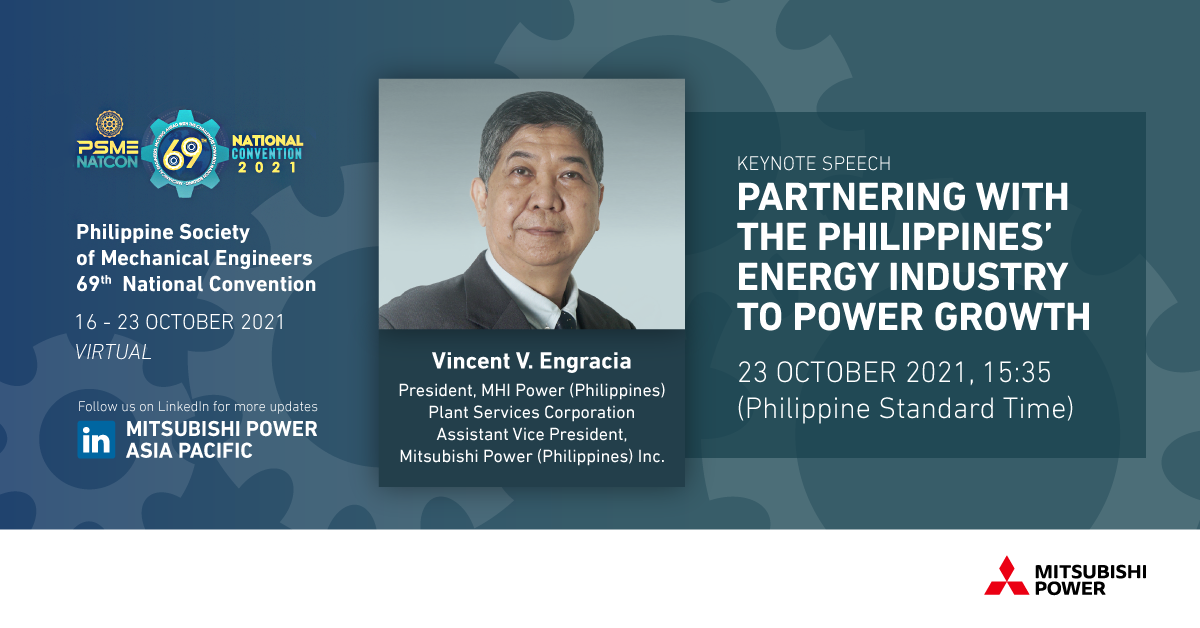 MANILA, PHILIPPINES (October 12, 2021) - Mitsubishi Power is participating as a gold sponsor in the upcoming Philippine Society of Mechanical Engineers (PSME) 69th National Convention (NATCON 2021) happening from October 16th to 23rd 2021.
Mr. Vincent V. Engracia, President, MHI Power (Philippines) Plant Services Corporation and Assistant Vice President, Mitsubishi Power (Philippines) Inc, will give a keynote speech on "Partnering with the Philippines' energy industry to power growth" at the event. This will take place on 23 October 2021 at 15:35 (Philippine Standard Time).
The speech will discuss balancing the need for stable and affordable energy with the Philippines' climate change imperatives. Mr. Engracia will share recommendations around optimizing coal plants, using renewables and cleaner fuels, as well as operations and maintenance of energy solutions. Most notably, he will emphasize the importance of industry-wide collaboration.
"The work of engineers and energy leaders continues to be most crucial to sustaining the Philippines' growth while addressing the country's climate change needs. For more than 60 years, Mitsubishi Power has been working with local partners to steer the Philippines' energy industry development. We look forward to our participation at this national event as we discuss how we can collaborate, explore innovative solutions and drive efficiency for a sustainable energy future," said Mr. Engracia.
Following PSME NATCON 2021, Mitsubishi Power Philippines Inc.'s engineers will conduct technical product presentations on PSME Flashpoint across the areas of remote monitoring and analytics for power plants as well as boiler and gas turbine design and operations.
Interested participants can view the livestream of NATCON 2021 and post-NATCON technical presentations on PSME's Facebook page here . Registration for the virtual event is available here , and for more information on PSME NATCON 2021, please visit the website at https://psme.org.ph/page/natcon2021 .
About Mitsubishi Power in the Philippines
Mitsubishi Power (Philippines) Inc. is part of Mitsubishi Power Asia Pacific Pte. Ltd., and has been headquartered in Bauan, Batangas since 1989. Mitsubishi Power (Philippines) Inc. supports the local power generation industry with comprehensive solutions spanning boiler manufacturing and maintenance, small and medium-sized gas turbines, geothermal power generation and remote monitoring services for power plants, among others. The company employs 2,000 local professionals to provide high quality and reliable services to customers and partners in the Philippines and is committed to strengthening partnerships with local stakeholders to provide stable power for economic development and a more sustainable future.
MHI Power (Philippines) Plant Services Corporation, part of Mitsubishi Power (Philippines) Inc., is a dedicated after sales service provider that caters to power plants and industrial plants in Southeast Asia. The company utilizes advanced technologies and local expertise to provide risk-based maintenance solutions, plant diagnosis, refurbishment consultation and offers long-term service agreements that meet the unique needs of each customer. MHI Power (Philippines) Plant Services Corporation is committed to helping power providers maximize the life expectancy and efficiency of their facilities to ensure stable power for local communities.
About Mitsubishi Power Asia Pacific Pte. Ltd.
Mitsubishi Power is a power solutions brand of Mitsubishi Heavy Industries, Ltd. (MHI)
Mitsubishi Power's products enable the decarbonization of energy and delivery of reliable power to more than 30 countries around the world.
Mitsubishi Power Asia Pacific Pte. Ltd. is headquartered in Singapore and supports business growth in key markets such as Bangladesh, Indonesia, Malaysia, the Philippines, Thailand and Vietnam. With more than five decades of experience in the region and over 2,000 employees, the company applies its deep knowledge of Asia Pacific's evolving energy needs to help power the region's development. Through its cutting-edge technologies, best-in-class products and strategic local partnerships, it is paving the way for countries, economies and communities in the region to transition to a low-carbon and sustainable energy future.
---