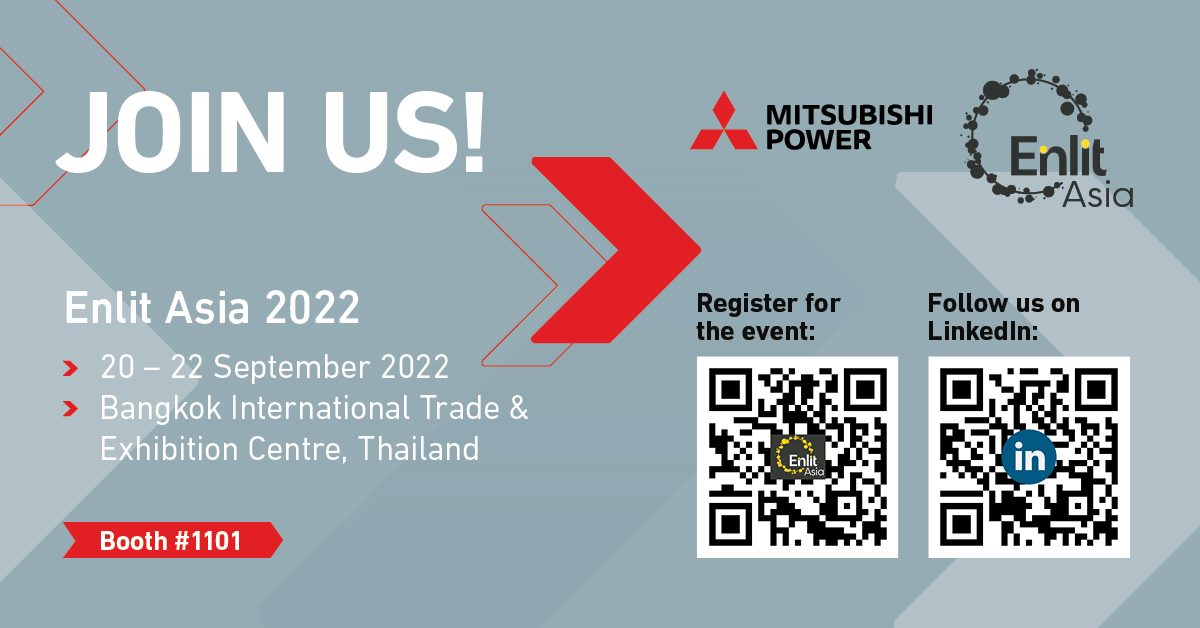 Singapore, (August 26 2022)- Mitsubishi Power, a power solutions brand of Mitsubishi Heavy Industries, will be a gold sponsor at Enlit Asia 2022, Southeast Asia's premier energy transition event. The event is happening from 20 to 22 September 2022 in Bangkok, Thailand.
At Enlit, Mitsubishi Power will exhibit at Booth #1101 and will be featured in numerous thought leadership panels and technical sessions.
Osamu Ono, Managing Director and CEO, Mitsubishi Power Asia Pacific will speak at a CEO panel called 'Let's be Realistic': How Can ASEAN Achieve its 2050 Net-Zero Emission Targets?, which will take place on 20 September 2022, at 2:05pm (GMT+7). He will join fellow thought leaders in a discussion on the opportunities that ASEAN nations can leverage to accelerate the energy transition.
The next day, at 10:00am (GMT+7), Takao Tsukui, Executive Vice President, International Sales & Marketing, Mitsubishi Power, will discuss the current hydrogen landscape and what is needed to elevate its role in our net zero future at the panel Unlocking the Role of Hydrogen in the Global Net Zero Future.
Enlit Asia will also offer Knowledge Hubs across three key themes: The Grid, Next-Generation and Asset Optimisation, and The Clean Energy Revolution. As part of these, Mitsubishi Power will host three technical presentations that will explore the technologies transforming the energy landscape in the region:
Technical Aspects of Co-Firing Hydrogen in Gas Turbines
• Speaker: Masanori Yuri, Senior General Manager, Gas Turbine Technology and Products Integration Division, Mitsubishi Power

• Knowledge Hub: The Clean Energy Revolution

• Date & Time: Day 1 – 20 September, 1:00pm (GMT+7)
The Digitalization of Power Plants
• Speaker: Hiroyasu Ishigaki, Digital Strategy Chief Manager, Technology Strategy Department, Energy Transition Division, Mitsubishi Heavy Industries, Ltd.

• Knowledge Hub: Next Generation & Asset Optimisation

• Date & Time: Day 1 – 20 September, 2:20pm (GMT+7)
Power Plant Life Extension – Improving Efficiency and Minimizing Costs
• Speaker: Vicneswaran Arumugam, Business Development Manager, Mitsubishi Power

• Knowledge Hub: Next Generation & Asset Optimisation

• Date & Time: Day 2 – 21 September, 1:30pm (GMT+7)
Mitsubishi Power will also host an exclusive virtual tour of T-Point 2 and Takasago Hydrogen Park* – which are our combined cycle power plant validation facility and the world's first center for testing of hydrogen-related technologies, respectively – on Day 2, 21 September, 1:30pm (GMT+7) at BITEC.
Commenting on the company's participation at Enlit Asia, Mitsubishi Power APAC's Managing Director and CEO Osamu Ono said: "Southeast Asian nations require unique solutions to balance their needs for decarbonization and affordable power, and Enlit Asia is a fantastic platform to discuss these solutions. We look forward to showcasing our industry-leading technologies and having lively conversations with other industry leaders and experts on achieving our net zero goals."
Registration for the event is available here. To keep updated on Mitsubishi Power's Enlit program, please follow us on LinkedIn.
*Registration for the virtual tour to Takasago Hydrogen Park is separate from the main event and attendance will be accepted on a first-come-first-serve basis. RSVP to Chrystal Wibisono at [email protected]. More details will be provided post-RSVP.
About Mitsubishi Power Asia Pacific Pte. Ltd.
Mitsubishi Power Asia Pacific Pte. Ltd. is a part of Mitsubishi Power, an industry-leading energy solutions provider that has applied innovative engineering to bring reliable, affordable, and efficient power to the world for more than 100 years. The company's headquarters is in Singapore and supports the growth of key markets in the region such as Bangladesh, Indonesia, Malaysia, Philippines, Thailand and Vietnam. With deep knowledge and understanding of Asia's evolving energy needs, Mitsubishi Power Asia Pacific Pte. Ltd. is a leader in powering the region's development by ensuring a secure and reliable energy supply for all. Through its cutting-edge technologies, best-in-class products and strategic local partnerships, it is committed to paving the way for countries, economies and communities in Asia to transition to a low-carbon and sustainable energy future.
---