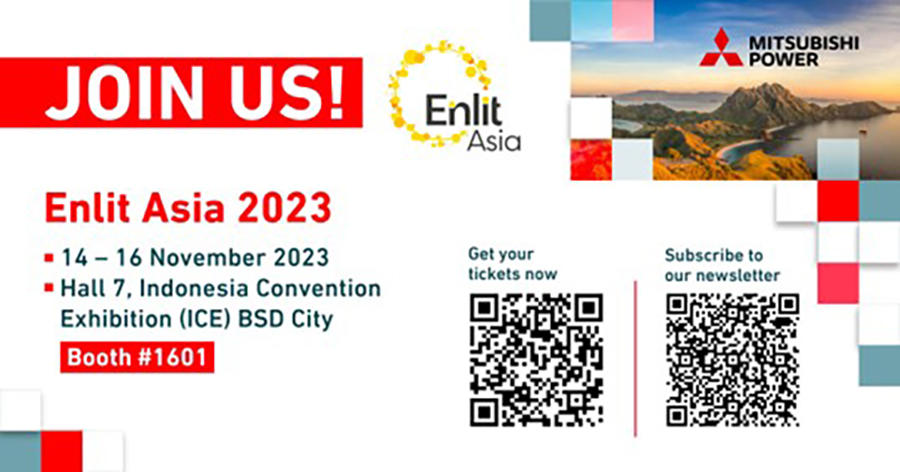 Singapore, 3 November 2023 - Mitsubishi Power, a power solutions brand of Mitsubishi Heavy Industries, Ltd. (MHI), will be participating in Enlit Asia 2023 as a gold sponsor. Held from 14 to 16 November in Jakarta, Indonesia, the premier energy transition event in Southeast Asia will gather global industry experts and leaders to share knowledge, solutions and strategies for a smooth transition towards a low-carbon energy future.
During the event, Mitsubishi Power will showcase its latest innovations and decarbonization solutions at Booth #1601, Hall 7, Indonesia Convention Exhibition (ICE) BSD City. The company's executives will also be featured in numerous thought leadership panels and technical sessions.
Takao Tsukui, Executive Vice President, International Sales & Marketing, Mitsubishi Power Ltd., will explore strategies for a longer-term sustainable energy future in ASEAN at a panel titled 'Advancing the path towards cleaner energy: Building a sustainable future in Southeast Asia' on 14 November 2023, at 3:45pm (GMT+7).
On 15 November, 10:00am (GMT+7), Akihiro Ondo, Managing Director and CEO, Mitsubishi Power Asia Pacific, will join other industry leaders in a panel titled 'Co-firing ammonia (and hydrogen) in fuelling the future: Latest updates and upcoming development' to discuss how hydrogen and ammonia technologies can realistically bring the Southeast Asia region closer towards a decarbonized power system.
Enlit Asia will also host Knowledge Hubs offering technical deep dives into industry innovations. Together with our industry and academia partners, we will be conducting technical presentations on our latest technologies and projects at the Generation Hub:
Verification of Hydrogen Co-Firing Technologies at the Tanjung Priok Power Plant in Indonesia - A look at Mitsubishi Power's M701F Gas Turbine
• Speakers: Naoki Sakagami, Senior Engineer, PT. Mitsubishi Power Indonesia & Mochamad Soleh, Vice President Technology Development, PLN Indonesia Power

• Date & Time: Day 1 - 14 November, 1:00pm (GMT+7)
Understanding combustion technologies with hydrogen and ammonia co-firing gas turbines: Mitsubishi Power and Institut Teknologi Bandung Case Study
• Speakers: Keijiro Saito, Deputy Director, Combustion Research Department, Takasago Research and Development Center, MHI & Dr Firman Bagja Juangsa Assistant Professor at the Faculty of Mechanical and Aerospace Engineering, Bandung Institute of Technology

• Date & Time: Day 1 - 14 November, 2:00pm (GMT+7)
Ammonia Co-firing: Maximizing Existing Assets for a Low-Carbon Society
• Speaker: Ziad Khalaf, Senior Vice President, Power Services, Mitsubishi Power Asia Pacific

• Date & Time: Day 1 - 14 November, 2:40pm (GMT+7)
Mitsubishi Power will also host an exclusive live tour of Takasago Hydrogen Park (Note) - the world's first integrated hydrogen validation facility, across production, storage and generation, which commenced full-scale operations in September 2023. The tour will be hosted by an expert on gas turbine technologies, Masanori Yuri, Senior Vice President, GTCC Business Division of Energy Systems, MHI, and will take place on 15 November, 11:30am (GMT+7) at the Indonesia Convention Exhibition (ICE), BSD City.
Commenting on the company's participation at Enlit Asia, Mitsubishi Power Asia Pacific's Managing Director and CEO Akihiro Ondo said: "Southeast Asia's energy transition presents an opportunity for the region to collaboratively reshape its energy landscape - emerging technologies with hydrogen and ammonia are transforming the sectors. Platforms such as Enlit Asia can accelerate this by uniting experts from industry, academia and government. We look forward to discussing industry leading solutions and gaining deeper insights into the region's evolving energy challenges and solutions."
Registration for the event is available here. To stay updated with Mitsubishi Power's activities at Enlit Asia, follow us on LinkedIn.
Registration for the virtual tour to Takasago Hydrogen Park is separate from the main event and advanced registration is required as space is limited. Please RSVP via email to Mai Rohimah at

[email protected]

.
About Mitsubishi Power Asia Pacific Pte. Ltd.
Mitsubishi Power is a power solutions brand of Mitsubishi Heavy Industries, Ltd. (MHI). Across more than 30 countries worldwide, Mitsubishi Power designs, manufactures and maintains equipment and systems that drive decarbonization and ensure delivery of reliable power around the world. Among its solutions are a wide range of gas turbines including hydrogen-fueled gas turbines, solid-oxide fuel cells (SOFCs), and air quality control system (AQCS). Committed to providing exemplary service and working with customers to imagine the future of energy, Mitsubishi Power is also spearheading the development of the digital power plant through its suite of AI-enabled TOMONI® solutions.
For more information, please visit https://power.mhi.com.
---