PLN and Mitsubishi Power Host Seminar Discussing Power Plant Solutions for Indonesia's Energy Transition
· O&M Seminar organized by PT. PLN Indonesia Power, PT. PLN Nusantara Power and Mitsubishi Power will facilitate sharing on role of thermal power plants in energy transition
· Solutions discussed include decarbonization technologies, hydrogen and ammonia co-firing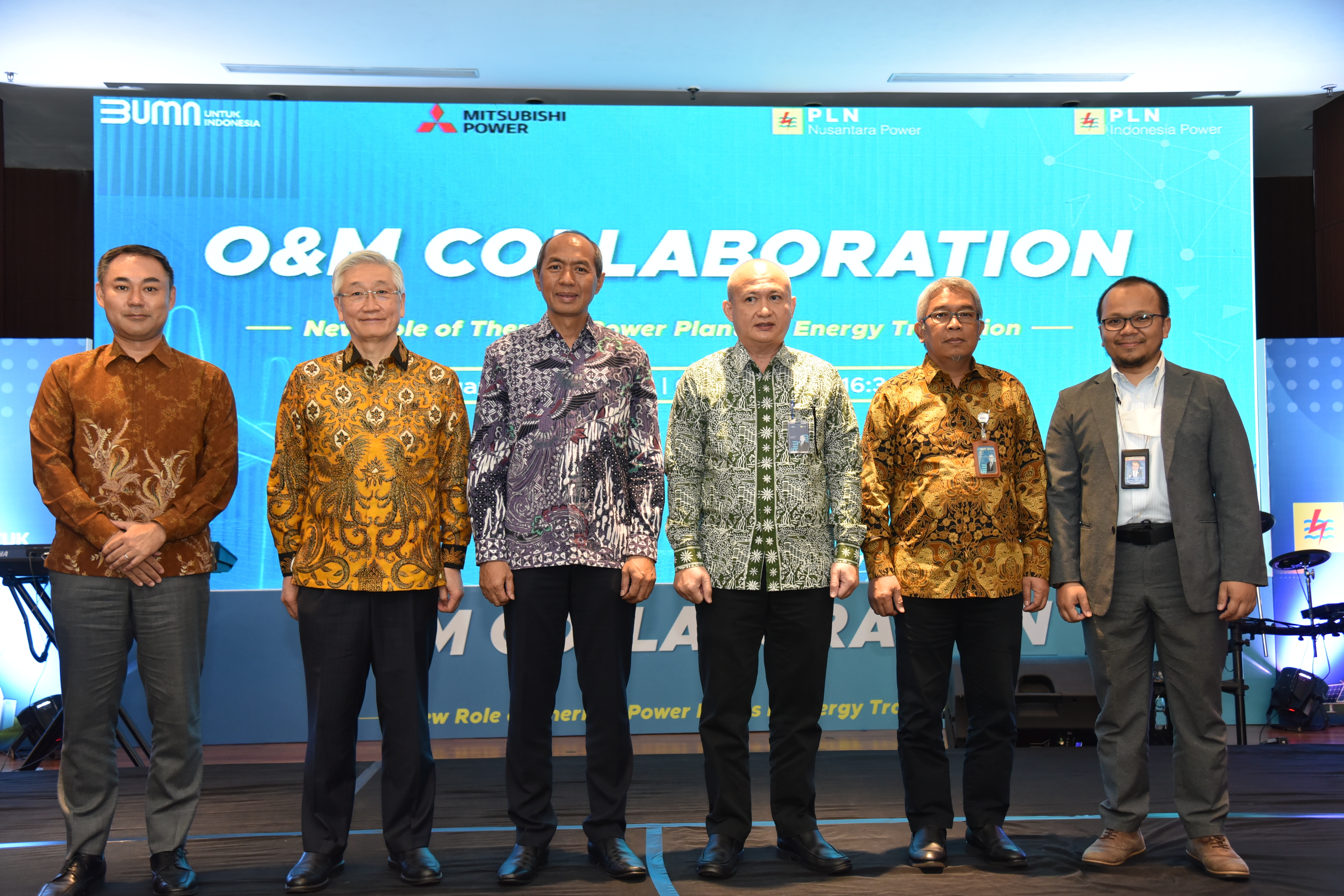 (From left to right) Mr. Kazuki Ishikura (Mitsubishi Power Asia Pacific), Mr. Ken Kawai (MHI), Mr. Edwin Nugraha Putra (PLN IP), Mr. Iwan Utama (PT. PLN (Persero)), Mr. Rachmad Handoko (PLN IP) and Dr. Firman Bagja Juangsa (Institut Teknologi Bandung) at the O&M Collaboration Seminar
Singapore, 21 February 2023 – PT. PLN (Persero) subsidiaries PT. PLN Indonesia Power (PLN IP) and PT. PLN Nusantara Power (PLN NP), and Mitsubishi Power, a power solutions brand of Mitsubishi Heavy Industries (MHI), jointly kicked off the O&M (Operations and Maintenance) Collaboration Seminar in Jakarta today. Set to take place from 21 to 22 February 2023, the annual seminar aims to facilitate knowledge sharing and discussions on state-of-the-art gas turbine and decarbonization technologies that support Indonesia's energy transition
Themed the "New Role of Thermal Power Plants in Energy Transition", the seminar features panel discussions and presentations about the latest developments in power generation technologies that can play a part in decarbonizing Indonesia's energy sector, such as CO2 capture, ammonia and hydrogen co-firing, as well as power plant equipment improvements
The Seminar, now in its 15th year, was first initiated in 2009 by Mitsubishi Power to facilitate knowledge sharing and understand local customer needs. Over 150 officials, technicians and engineers from PLN IP, PLN NP, Mitsubishi Power as well as guests from Indonesia's Institut Teknologi Bandung attended the seminar this year.
In his opening speech, Edwin Nugraha Putra, President Director, PT. PLN Indonesia Power, said: "PLN Indonesia Power is pleased to be the host of this year's O&M Collaboration Seminar. We believe that the theme 'New Role of Thermal Power Plants in Energy Transition' is very relevant to the current global effort to create a better environment. We hope that the discussion during this two-day seminar can support PT. PLN (Persero) as a group to achieve our mission, which is to become a leading electricity company in Southeast Asia and the Number One Customers' Choice for Energy Solutions."
Ruly Firmansyah, President Director PT PLN Nusantara Power, added: "PLN NP is one of the largest subholding power generation companies in Southeast Asia committed to developing innovation to accelerate decarbonization and realistic energy transition in Indonesia. Experienced in cofiring, PLN NP has 22 power plants that successfully work with cofiring, and we hope to work together with other companies to support decarbonization."
Ken Kawai, Advisory Fellow and former Head of Energy Transition and Power Headquarters, MHI, said: "The power sector is one of the most essential industries for realizing Net Zero targets globally, and the decarbonization of thermal power generation is a necessary consideration for a realistic energy transition in Indonesia, Japan and other countries in the world. We are pleased to support partnerships between the Indonesian and Japanese governments that work to improve our environment. We are excited to deepen our collaboration with PLN Indonesia Power and PLN Nusantara Power to create a more sustainable energy future."
Kazuki Ishikura, President Director of PT. Mitsubishi Power Indonesia and Senior Vice President of Mitsubishi Power Asia Pacific, said: "As the most populous country in Southeast Asia, the impact of Indonesia's sustainable growth and energy transition is exceptionally important to the region. We should explore various paths to decarbonization, such as enhancing existing power plants and leveraging fuels of the future, like hydrogen and ammonia. This Seminar allows for much needed knowledge sharing, so that we can partner, learn and implement solutions that support today's energy needs and ensure sustainability for the future."
PLN NP, PLN IP and Mitsubishi Power are committed to helping Indonesia meet its net zero climate goals through collaborative partnerships that leverage the individual strengths of each organization. In an MoU signed recently between Mitsubishi Power and PLN IP, both companies agreed to jointly explore adapting less carbon intensive fuels such as ammonia, hydrogen and biomass in power plants owned by PLN IP. Additionally, PLN NP engaged Mitsubishi Power to upgrade the third block of the Muara Karang Gas Turbine Combined Cycle Power Plant, delivering the most efficient power plant in Indonesia to minimize emissions while meeting the rapidly growing energy demand in West Java. The project was conferred Gold for "Gas Engine Combined Cycle Power Project of the Year" at the Asian Power Awards 2022.
For more information and latest updates on the O&M Collaboration Seminar, follow Mitsubishi Power Asia Pacific's LinkedIn page.
About Mitsubishi Heavy Industries Group
Mitsubishi Heavy Industries (MHI) Group is one of the world's leading industrial groups, spanning energy, smart infrastructure, industrial machinery, aerospace and defense. MHI Group combines cutting-edge technology with deep experience to deliver innovative, integrated solutions that help to realize a carbon neutral world, improve the quality of life and ensure a safer world. For more information, please visit www.mhi.com or follow our insights and stories on spectra.mhi.com.
About Mitsubishi Power
Mitsubishi Power is a power solutions brand of Mitsubishi Heavy Industries, Ltd. (MHI). Across more than 30 countries worldwide, Mitsubishi Power designs, manufactures and maintains equipment and systems that drive decarbonization and ensure delivery of reliable power around the world. Among its solutions are a wide range of gas turbines including hydrogen-fueled gas turbines, solid-oxide fuel cells (SOFCs), and air quality control systems (AQCS). Committed to providing exemplary service and working with customers to imagine the future of energy, Mitsubishi Power is also spearheading the development of the digital power plant through its suite of AI-enabled TOMONITM solutions.
For more information, please visit https://power.mhi.com.
About PT. PLN Indonesia Power
PT. PLN Indonesia Power is the largest generation company in Southeast Asia, a sub-holding of PT. PLN (Persero). PLN Indonesia Power has always been committed to become a technology-based, innovative and future-oriented energy company towards the New PLN 4.0 Unleashing Energy and Beyond.
About PT. PLN Nusantara Power
PT PLN Nusantara Power ("PT PLN NP") is a subholding generation company of PT PLN (Persero) which has diversified businesses, including power generation, operations and maintenance, engineering procurement and construction, financing, consulting, as well as trading services.
Press Contact
For Mitsubishi Power
Corporate Communication Department
Mitsubishi Heavy Industries, Ltd.
Email:[email protected]
Sophia Wee
APAC Communications
Mitsubishi Power Asia Pacific
Email:[email protected]
For PT. PLN Indonesia Power
Agung Siswanto
Corporate Secretary
PT. PLN Indonesia Power
Email:[email protected]
For PT. PLN Nusantara Power
Corporate
PT PLN Nusantara Power
Email:[email protected]
Zubaidah
Corporate Secretary
PT PLN Nusantara Power
Email:[email protected]
---