"The Mitsubishi Hitachi Power Systems Europe London and Duisburg teams will in future operate as a single entity, MHPS-EU. Combined, they can support their customers with comprehensive know-how within the thermal power generation fields". This is very much Mr. Klitzke's core belief. The company will continue the thermal power plant business (principally in gas and coal-fired technology) and will also have a stronger offering to customers in energy plant construction brought about by additional products, leaner structures and more efficient project management. Some 2,000 staff are employed in MHPS-EU companies in EMEA area.
Mr Klitzke is confident in his approach to the task. "We can meet a wide variety of customer requirements from small-scale to large scale gas turbines, construction and after-sales service, delivering truly state-of-the-art utility power plants. This is the great strength we have in the MHPS Group. Additionally, the wide plant range installed by our predecessor companies will also enable us to provide our customers with any required rehabilitations or efficiency hikes – whether technology or commercially based." Mr Klitzke added that MHPS-EU in EMEA area has excellent business references, a highly motivated workforce and as a regionally aligned and European-managed company would support its customers in Europe's changing energy landscape while exploring new opportunities in more developing energy markets in Eastern Europe and North Africa. "The EMEA unit is an important mainstay in achieving our aim of becoming No. 1 globally in the construction of thermal power plants."
According to Oliver Klitzke the integrated operation is part of the global corporate strategy of parent Mitsubishi Hitachi Power Systems. The Japanese company (approx. 20,500 employees) was established as a joint venture at the start of 2014; it unites the former thermal power plant business of Mitsubishi Heavy Industries, Ltd. and Hitachi, Ltd. Since 2014 MHPS has successfully set up regional companies in North and South America, China and South-East Asia. These integrated companies have uniform operating processes, rapid response times and can access the resources of the worldwide operating MHPS Group. Mr Klitzke aims to achieve these same benefits within the newly integrated EMEA region.
The product range of MHPS-EU includes the design, construction, startup and service of gas, coal and industrial power plants. The plant constructor also supplies key components such as utility steam generators, turbines and highly efficient environmental technology systems. Enhancing the product set further are the new technologies, for example power-to-fuel solutions and high-temperature fuel cells that are critical to the continuously changing energy landscape. Power plant construction and the service business provide substantial market potential for the energy plant constructor.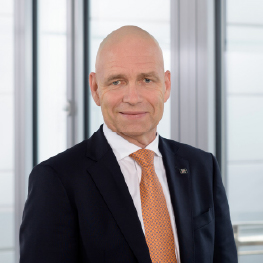 ---