With a track record going back over 100 years in the power plant sector, Mitsubishi Power Europe can build upon its own comprehensive technologies for industrial boilers and decentralized power solutions. Our wide range of capabilities stretches from the chemical/petrochemical industry to steel production, from the automotive industry to municipal clients. We also offer industrial boiler modernization, including conversion of fuels, optimization of firing systems, repair and replacement of components and increase of boiler efficiency. Our boilers and burners can handle a variety of fuels including oil, gas, coal, biomass, blast furnace gas, coke oven gas, carbon monoxide.
Offerings
We produce various types of boilers depending on the amount, pressure and temperature of the steam they produce and the fuel they use. These include;
- Oil and Gas Fired
- Grate Fired
- Refinery Boilers
- Steel Gas Boilers
- Waste Heat
- Pulverized Fuel
- Special Solutions
We supply only boilers of the highest quality and performance, built on a vast breadth of experience and state-of-the-art technologies.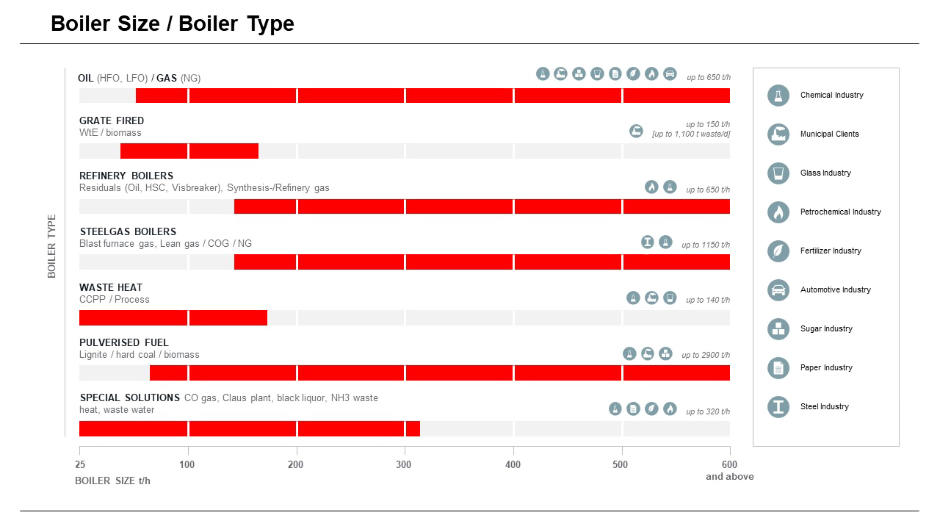 Services
Consultation
- Sound understanding of costumer needs and market requirements
- Feasibility studies
- Investigation of technical and economic viability
- Definition of the steam boiler system
- Process

Process Optimization

- Competences, work processes and tools for optimising energy generation processes
- Design of the boiler system
- Strategic cooperation main suppliers
- Specification of system and components

System integration

- Delivery of complete, turnkey boiler systems
- Integration into existing and running systems
- Installation planning and installation in existing plants
- Commissioning and test runs
- Quality monitoring and assurance

Reference Model

- Reference concepts for engineering, procurement, manufacturing, erection and  commissioning
- Modular design – division of boiler scope in different modules
- Standardization within modules
- Customer orientated adaption of the RPM (Reference Product Model)
- Approach/concept available (experience from Fast Track Engineering)

 

Reliable and Cost-effective Boilers

Smart and Fast Erection

Decentralized Power Solutions