The town's municipal utility is modernising a combined heat and power station – Coal boilers are being replaced
Duisburg/Flensburg, 19.12.2019 — The municipal utility in Flensburg, Germany, has awarded Mitsubishi Hitachi Power Systems Europe (MHPS Europe) a contract to supply a heat recovery steam generator (HRSG) for a new combined cycle power plant, "Kessel 13". The plant will be powered by natural gas and is scheduled to be commissioned in 2022 — replacing two coal boilers earlier than planned.
The municipal utility "Stadtwerke Flensburg" is investing a total of around 70 million euro in the new plant, with a portion of this amount being used to pay for the new HRSG. The generator will use the waste heat from the gas turbine exhaust gases to generate additional electricity and hot water for district heating. The horizontal-HRSG with natural gas supplementary firing system, developed by MHPS Europe, has a steam rate of 150 t/h at a steam pressure of 90 bar and a steam temperature of 535° Celsius. The high level of availability and efficiency of the plant are just two of its many impressive features. By coupling power and steam generation, the new combined cycle power plant can achieve an efficiency of over 90%. The environment also benefits from reduced emissions — for example, the new generators produce around 40% less CO2 than the old coal boilers when generating the same amount of energy.
"Our impressive technological concept and our experience in energy plant construction were key to us winning this contract", says Thomas Bohner, CEO of MHPS Europe. Despite tough competition, this is the second HRSG contract that the company has secured in a short period of time — the other is the heat recovery steam generator for the Infraserv Wiesbaden project.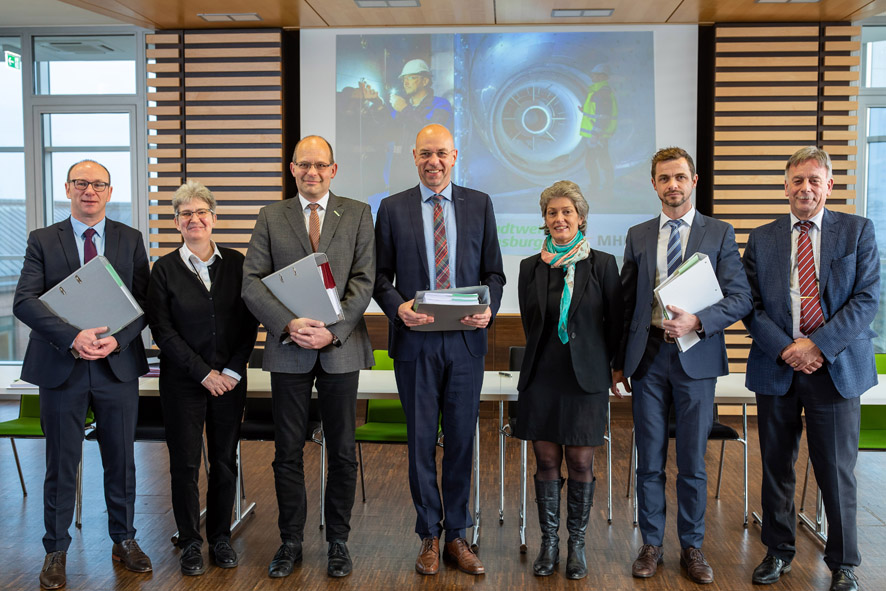 Dr. Björn Henning, Vice President, Head of Business Unit Boiler, Mitsubishi Hitachi Power Systems Europe,
Ute Langhausen, Authorized Manager, Commercial Tendering Manager, Mitsubishi Hitachi Power Systems Europe
Karsten Müller-Janßen, Head of Division Plant Construction and Projects, Stadtwerke Flensburg
Maik Render, Managing Director Stadtwerke Flensburg
Anna Brunell, Commercial Sales Manager SIT, (Siemens Schweden)
Christoph Schütte, Head of Subregion Germany, Siemens AG
Dirk Veenhuizen, Senior Sales Manager SIT
Contact
Hasan Gürpinar
Communication
Mitsubishi Hitachi Power Systems Europe GmbH
[email protected]
Tel.: +49 203 8038-1661
Fax: +49 203 8038-1809
About Mitsubishi Hitachi Power Systems, Ltd.
Mitsubishi Hitachi Power Systems, Ltd. (MHPS), headquartered in Yokohama, Japan, is a joint venture formed in February 2014 by Mitsubishi Heavy Industries, Ltd. and Hitachi, Ltd. integrating their operations in thermal power generation systems and other related businesses. MHPS today ranks among the world's leading suppliers of equipment and services to the power generation market, backed by 100 billion yen in capital and approximately 20,000 employees worldwide. The Company's products include GTCC (gas turbine combined-cycle) and IGCC (integrated coal gasification combined-cycle) power plants, gas/coal/oil-fired (steam) power plants, boilers, generators, gas and steam turbines, geothermal power plants, AQCS (air quality control systems), power plant peripheral equipment, digital solutions and solid-oxide fuel cells (SOFC).
About Mitsubishi Hitachi Power Systems Europe GmbH
Mitsubishi Hitachi Power Systems Europe GmbH, which is headquartered in Duisburg and is a subsidiary of the global company Mitsubishi Hitachi Power Systems, Ltd., plans and constructs power plants and offers long-term service and maintenance contracts. The plant constructor also delivers key components such as gas turbines, steam generators and environmental technology. As the market and technology leader, e.g. for gas turbines or steam generators, the company focuses on modern, environmentally friendly and efficient plants. The company employs around 670 staff in Duisburg.
---