DUISBURG (January 27, 2022) – Mitsubishi Power Europe and Kraftblock GmbH have signed a cooperation agreement for the design and implementation of high-temperature energy storage systems in order to facilitate sustainable energy in power plants and industrial heat applications. Using Mitsubishi Power Europe's leading technology and Kraftblock's thermal energy storage, both companies pursue the transition of existing power plants to generate green power and offer sustainable energy solutions for the industry.
Kraftblock, based in Saarland, Germany, develops and produces an eco-friendly, cost-efficient thermal energy storage system that efficiently stores green heat. Kraftblock's storage can deliver renewable heat for power plants, using the existing infrastructure of the plant such as turbine, grid access and district heating. The storage also optimizes energy processes in furnaces, can use waste heat and delivers green process heat.
Mitsubishi Power Europe as a leading provider and innovator of technology and solutions for the energy and industrial sector, will take on the system integration of the energy storage units into existing plant systems, applying its longstanding experience and expertise in rehabilitation and upgrading of existing plant facilities.
Both companies are committed to providing innovative solutions for a decarbonized power production. This storage technology is an important element in shaping the future of a cleaner and greener energy production and storage.
Christian Kissling, Head of Sales at Kraftblock, comments: "We are very glad to have Mitsubishi Power Europe at our side as the perfect partner for this important step to reduce emissions. We share the same goal and vision: to provide reliable and sustainable energy in a safe and highly efficient way – now and for future generations."
Andreas Rupp, Head of Sales Business Unit Service, Mitsubishi Power Europe, adds: "We look forward to working together with Kraftblock. This technology meets our highest standards in terms of innovation and sustainability and will enable our customers to operate their existing facilities and plants in a much more eco-friendly way, making an important contribution to achieve the global decarbonization goals."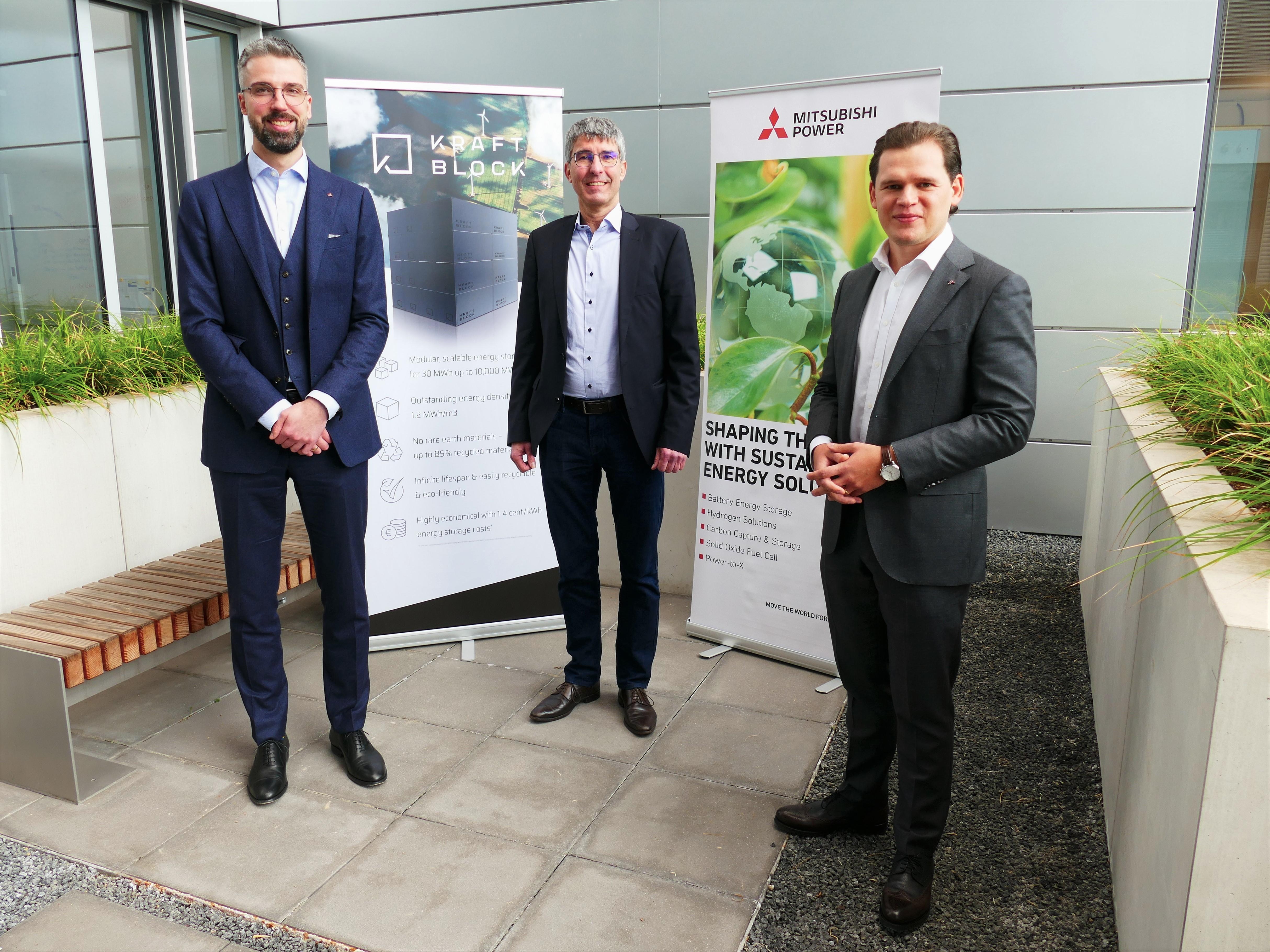 From left to right: Mirco Wojnarowicz, Head of Commercial Management Business Unit Service, Mitsubishi Power Europe; Christian Kissling, Head of Sales, Kraftblock; Andreas Rupp, Head of Sales Business Unit Service, Mitsubishi Power Europe
###
About Mitsubishi Power in Europe, the Middle East and Africa
Mitsubishi Power is a power solutions brand of Mitsubishi Heavy Industries, Ltd. (MHI). Today, there are more than 1,000 employees across Europe, the Middle East and Africa, with centers of excellence in Germany, the United Kingdom, Saudi Arabia and the United Arab Emirates, in addition to customer support capabilities in countries across the region. Mitsubishi Power designs, manufactures and maintains equipment and systems that drive decarbonization and ensures the delivery of reliable power. Among its solutions are a wide range of gas turbines, including hydrogen-fueled gas turbines and solid-oxide fuel cells (SOFCs), and an experienced services business with an extensive reach across the entire region. Committed to providing exemplary service and working with customers, Mitsubishi Power's TOMONI™ intelligent solutions leverages advanced analytics, adaptive control technology, artificial intelligence and machine learning to make power plants smarter, lowering emissions, increasing flexibility and supporting decarbonization.
For more information, please visit: https://power.mhi.com/regions/emea/
About Kraftblock
Kraftblock produces energy storages that are designed for the use of high temperature up to 1,300 degree Celsius. Using waste heat or renewable energies, Kraftblock provides heat for industrial processes, power generation or district heating. Thus, emissions are avoided or reduced. The storage material is scientifically developed and contains 85 per cent recycled material with low CO2 footprint and no rare earths. Due to the material's long lifespan as well as the modular system and scalability of Kraftblock storages, Kraftblock is the leading technology regarding heat storages on the market. Business areas with great potential are renewable energies and power generation, the steel, ceramic and glass industry and every industry that needs process heat. Kraftblock, formerly known as Nebuma, was founded in 2014 and attracted prominent investors like Kees Koolen (Koolen Industries, e.g. booking.com) or Frank Thelen (Freigeist Capital GmbH) from Germany. 
For more information, please visit: https://kraftblock.com/en/
PRESS CONTACTS
Mitsubishi Power Europe GmbH

Claudia Wedemann

Tel.: +49 203 8038 1368
E-Mail: [email protected]

Kraftblock GmbH

Cedric Fritsch

Tel.: +49 6897 936 1619

Email: [email protected]
---