Factory Validation & Commissioning
Our diversified system validation promises a high reliability and performance.
We conduct various reliable and environmental tests for our control systems, in order to ensure safety and stable performance of control systems. Based on the testing result, we further develop our control systems.
Operation Test
Normal functionality of control systems & monitoring systems are validated by the self-diagnostics function or RAS test.
Simulation Test
We perform a various simulations for control monitoring systems, by connecting simulators with dynamic and static characteristics. The commissioning time can be drastically reduced by simulations.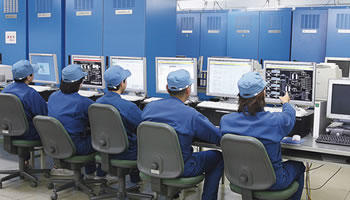 Commissioning
Commissioning of the installed control systems will be done on site. We have over 900 plants both domestic and overseas. We also offer trainings for operators on request.