Various types of simulators utilized with our knowledge and expertise
By utilizing our knowledge and expertise in control system design, manufacturing and commissioning, we offer a wide variety of simulators for thermal power plants and for ship operation. For smaller scale systems, we also provide Compact type simulators.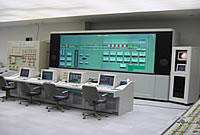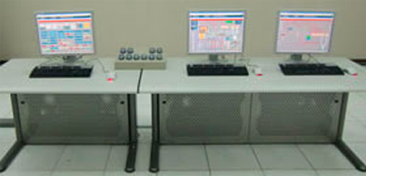 Features
The plant model builder tool originally developed by us, namely Data Base Type Simulation Software (DBSS), makes it possible to build a plant model without programming or mathematical calculation formula. Just inputting design data to data base will create the plant model, which simulate the physical phenomena inherently and the actual plant dynamics.
Improvement in operators' skills can be expected through various training. Simulation training is not only for regular operations, but also for counter measures in case of accident, such as valve failure, run back, FCB, tube leak, etc.
We support our customers with many types of product line-ups, from "Compact Type Simulators" to "Full Replica Type Simulator".
Training for multiple plants can be done by one system using plant switch over function.
Our simulator will assist in educating your maintenance engineers through trainings using the same control logic and HMI with the actual plant.
Applicable Plants
Conventional Power Plant(Steam Drum Boiler Type / Once-through boiler Type)
Gas Turbine Combined Cycle Plant (Single GT unit / Multiple GT unit)
Ship Operating Plant(Diesel powered ship / Turbine powered ship)
Delivery Record
Training Simulator for Thermal Power Plant
Domestic : 18 systems Overseas : 15 systems
Ship Operation Training Simulator
Domestic : 3 systems  Overseas : 1 system
Training Simulator for Thermal Power Plant
Our high fidelity plant model software simulates both static and dynamic characteristics; for boilers, turbines, generators, and auxiliary devices such as valves, tubes, and etc. It builds a model of control systems and/or Human Machine Interface to simulate the same operation as the actual equipment.
We offer several types of simulators from Compact type simulators to Full Scale Replica Type Simulators, and they have substantial features; malfunction, slow-fast time simulation speed change function and backtrack function to assist instructors.
Simulation for Ship Operation Training
We can build a model to accurately simulate interior of the ship.
We have been receiving favorable feedback from customers about the realistic sound simulation. Such as change of the engine sound according to operation.