Products for Dedicated Systems
Ship Operation Control System
In order to ensure safe and reliable operations, we provide a variety of control systems for ship operation, which features the latest electronics technology and computer applications. Our reliable operation system works as a control/automation system for marine navigation, cargo loading/off-loading and engine operation, as it reflects our knowledge and methodology from our years of experience in the field, that customers evaluate highly.
High Speed Boat / LNG Tanker / Cruise Ship
Integrated control system (Engine / loading work, etc.)
Main Steam Turbine remote control system
Boiler automatic combustion control system
Waste heat recovery control system (MERS Control System)




Plant Auxiliary Equipment Control System
Since the establishment of company, we consistently have provided an integrated service from planning, designing, manufacturing of control panels, creating control logics and SCADA software, to the end of commissioning for the thermal power plant. This integration capability is also applied to plant auxiliary equipment called "BOP system" at the thermal power plant. We have the supply record for these systems and can use a variety of control systems, such as many brand of PLC (programmable logic controls).。
Key Auxiliary Equipment
Desalination System
De-SOx System
Coal Handling system
Electrostatic Precipitator
Ash Handling System
Water Treatment System
Chlorination plant
Other equipment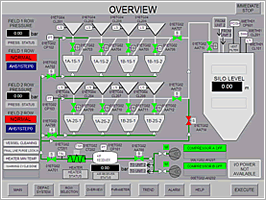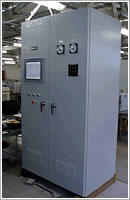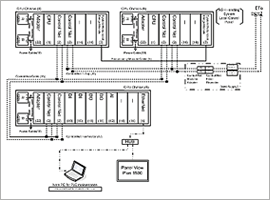 Engineering / Maintenance Tool of Control Logic for PLC
(CFOLET®-M: for MELSEC Q series Mitsubishi Electric)
< CFOLET-M> is a PLC design / maintenance tool that engineers with general knowledge on plant control can conveniently build analog and sequence control system, such as creation of analog / sequence control logics, monitoring, and change of control parameters. The following features powerfully support the customer engineers.
No knowledge of Ladder language is required.
User friendly tool for engineers using operational element AND-OR, etc.
User can monitor the created logic and tune the logic element parameter online such as timer, etc.
User can draw the control logics with similar format of IBD and function block diagram.
User can print the control logic diagram in the same graphic images with the drawing, thus the documents/drawings management becomes easy.
Minor modification of control logics can be performed while the PLC is running. Therefore changing logic can be easily done while system is in operation.
System Requirements
| | |
| --- | --- |
| CPU | Pentium 4 or more |
| HD | Available disk space 2GB or more |
| Memory | More than 1GB |
| OS | Windows10 (64bit) |
Compatible PLC
Mitsubishi Electric Company ltd, MELSEC Q series