We Were Awarded By Our Customer In Connection With Dcs Upgrades On The No.1 Unit At Zhuhai THErmal Power Station.
On July 25, 2012, we were awarded by our customer, Zhuhai Power Station in connection with the installation of DCS upgrade on the No.1 unit. The award ceremony was held at the entrance hall in the power station and a certificate of commendation and a commemorative shield were given to our company CEO, Mr. Hirata.
This project was initiated in October 2011 as our first experience in DCS upgrade on the existing unit. Working closely with the customer in order to start up the system, we have successfully passed various tests and turned over the unit to the customer on December 12, 2012.
We are focusing our effort on accomplishing the smooth installation of DCS upgrade on No. 2 unit, starting in October 2012 without any trouble.
Summary of this project
Unit

Zhuhai Thermal Power Station No. 1 & 2 unit (Zhuhai city, Guangdong, China)

Output

700MW

System Upgrade

APS, APC, DEH, MBC, SEW-B, SEQ-T, FWC-A, FWC-B, DAS-I/O,
Boiler Protection, Turbine Protection, BFPT Protection

Contract

Contract signed on October 30, 2009

Delivery

No. 1 unit- December 12, 2011
No. 2 unit- Scheduled to start the installation on October 1, 2012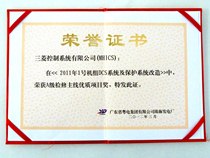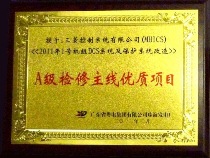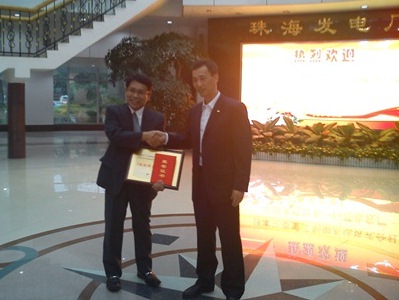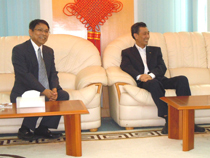 ---