CSR Activities (2013)
As a part of our efforts to contribute to society, we have been conducting lectures for students ranging from junior high to college.
While looking back at the history of earth, we think about the future energy and environment future together with younger generations who will shape the future.
Lecture: A global environment and energy" was given to the junior high students.
On July 18, 2013, career guidance lecture with the theme, "Our earth's 4.6 billionth year, we are responsible for building the future" was given by our Senior Vice President, Mr. Kuroishi for 500 students at Obirin Junior High School (Machida city, Tokyo).
Mr. Kuroishi lectured the necessity of uniting youth from all over the world, for the future while learning the history of earth and acknowledging the present energy crisis.
We have received many positive feedbacks from students.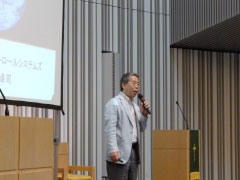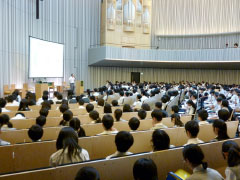 ---