MHI Power Control Systems Co., Ltd., Mitsubishi Heavy Industry, Ltd. and other MHI group companies joined to exhibit at the one of the largest exhibitions in Japan, "Biwako Environmental Business Exhibition" held at Nagahama Dome (in Shiga Pref.) and "Messe Nagoya" 2014 held at Port Messe Nagoya (Aichi Pref.).
To promote our line of integrated energy management systems for factories, we introduced our integrated supervisory system utilizing DIASYS Netmation®, MIRNDA-FD (flame detector) and Wireless visualization system.
We also conducted a presentation, "Factory Total Energy Solution (F-TEMS)" emphasizing the importance of understanding the current energy situations while introducing current market trends such as the increase of free trade electric power and renewal energy. We have received feedback from the audience who requested ideas to improve their energy solutions, by implementing our products.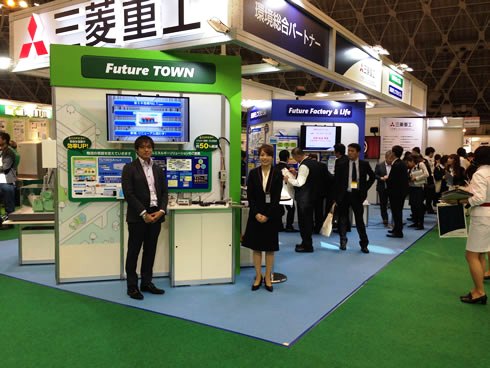 ---