The Gresik control systems delivered to Indonesia/PJB is highly praised at the front page of the May issue of their in-house newsletter.
Indonesian economy has been enjoying the rapid growth. Its power equipment capacity, now 53GW, is estimated to exceed today's all Japan capacity 245GW at 2030.
PJB is one of the two government owned power generation and dispatch companies.
Gresik power station, constructed at 1992-4, has 1600 MW capacity, which was the largest station in Asia, with 3on1 GTCC x 3 Blocks.
The article mentioned that "Renewing the control systems usually requires to shut down the plant.
However, this time the control systems were renewed online, while continuing the operation.
By this way, we can increase EAF(Equivalent Availability Factor) by 5.99% in three years and avoid the potential loss in the electric power selling (over 70 billion rupiah(≒5.8 million USD(120\/USD)) of sales amount)compared to the normal renewal."
Satisfying the customer request of minimizing the plant shutdown against the high electric demand won the admiration on our technology.
(Some remarks from MP-CS)
Step 1: While all 3GT(gas turbine) and ST(steam turbine) were in operation, new Netmation Operator PC was connected to the existing old controller by way of gateway.
Step 2; While #1 GT was in Major inspection,; other 2 GTs and ST were in operation, new Netmation controller as #1GT controller was installed and connected to Netmation network.
Step 3: Repeat this step at other GT and ST major inspection individually.
This is what this article says "the control systems were renewed online".
In addition, the company talks about how they conducted the nominated companies to carry out the pretests to see the companies' skills so as to select the adequate company for the renewal, in consideration of all the risks (trips, unexpected accidents, etc) that could possibly happen in the online system renewal.
We can see from this that Mitsubishi Power and MP-CS's high technological skills are inimitable to other companies and were highly acclaimed.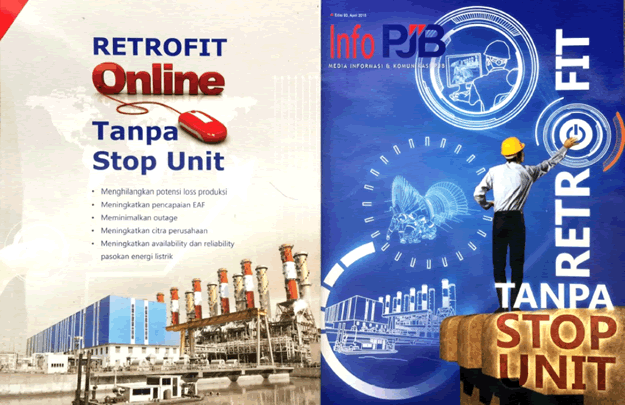 The word "Tanpa" in the cover page is Indonesian which means "Never". This phrase is the essence of this article.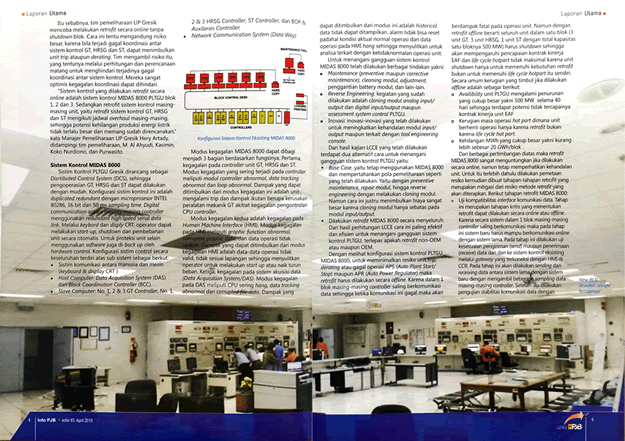 ---