We obtain customers' satisfaction and trust by quality, cost, and delivery time. This is our quality policy, and based upon this policy, in order to manufacture products to meet customers' requirements, we have been consolidating a system of quality management system. And, in February 2000, we obtained ISO9001 certification which is international standard of quality assurance.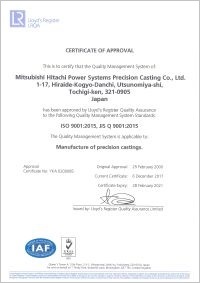 Our company manufactures blades and vanes for gas turbine which are main component of gas turbine.
We are aiming at
Obtaining customers' satisfaction and trust by quality, price, and delivery time.
Exceeding competitors by QCD and conducting business evolution globally.
In order to create products which meet customers' requirements, we established quality policy, and are working on the following task.
To establish a solid management foundation that can adapt to changing intense business environment.
We specialize in producing blades and vanes for large and medium size gas turbines that can make us full use of our technology and equipment.
To improve production quality (process quality).
We increase productivity by improving production quality.
To supply our manufactured goods with short lead time and just in time.
We produce goods according to the work time schedule which is determined in all process, we fulfill short lead time without retaining inter-process retention.
To realize these challenges, each employee will work on this with the following attitude.
All basic idea is to keep safe workplace and health of employees, we will promote safety and health with top priority.
Individuals tackle with various tasks until resolution with confidently and tenaciously.
Grasping precise facts and analysis, think well and give ideas.
Do not postpone work, do it soon from which you can do.
To solve problems by team play, not by individual play.
To challenge new matter without being held by conventional custom.
The superiors support these performances performed by each person.