♦ Facility will use intelligent solutions to increase performance and improve economic efficiency
DUISBURG (GERMANY), 5th November, 2021 - Mitsubishi Power is establishing its first TOMONI HUB (Analytics and Performance Center) for power generating and energy systems in Europe. The facility is to be located in the Duisburg office, Germany, a centre of excellence within EMEA of Mitsubishi Power.
The HUB will support operations and maintenance for various types of power plants, from gas-fired power plants to industrial applications and decentralized solutions, by applying the latest digital technologies.
By using the TOMONI™ suite of intelligent solutions, the HUB can analyze massive amounts of data from power plants and use them to provide predictive maintenance, solve complex problems, increase plant performance and improve economic efficiency. By combining our technology offerings with state of the art digital solutions, our customers will have the tools to manage their assets in today's challenging environment and into the future.
The HUB in Germany will start operations in late 2021. "The new facility will take our online monitoring, diagnostic analytics and digital solutions capabilities to the next level", says Thomas Bohner, CEO of Mitsubishi Power Europe GmbH. "This unit also aims to support the commissioning of new plants and services on decentralized or decarbonized power solutions, from CHP plants over industrial boilers to new technologies like: solid oxide fuel cells or electrolyser plants."
Mitsubishi Power is already operating four TOMONI HUBs globally, in Japan (2), the US and the Philippines.
The new HUB is part of the "Spitzencluster Industrielle Innovation" (SPIN) program of the federal state of North Rhine-Westphalia. SPIN connects industries, universities, research institutes and start-ups which are developing solutions for the energy transition. Steag Energy Services and the Fraunhofer-Insitute for Intelligent Analysis and Information Systems (IAIS) are collaborating with Mitsubishi Power Europe in the project.
TOMONI HUB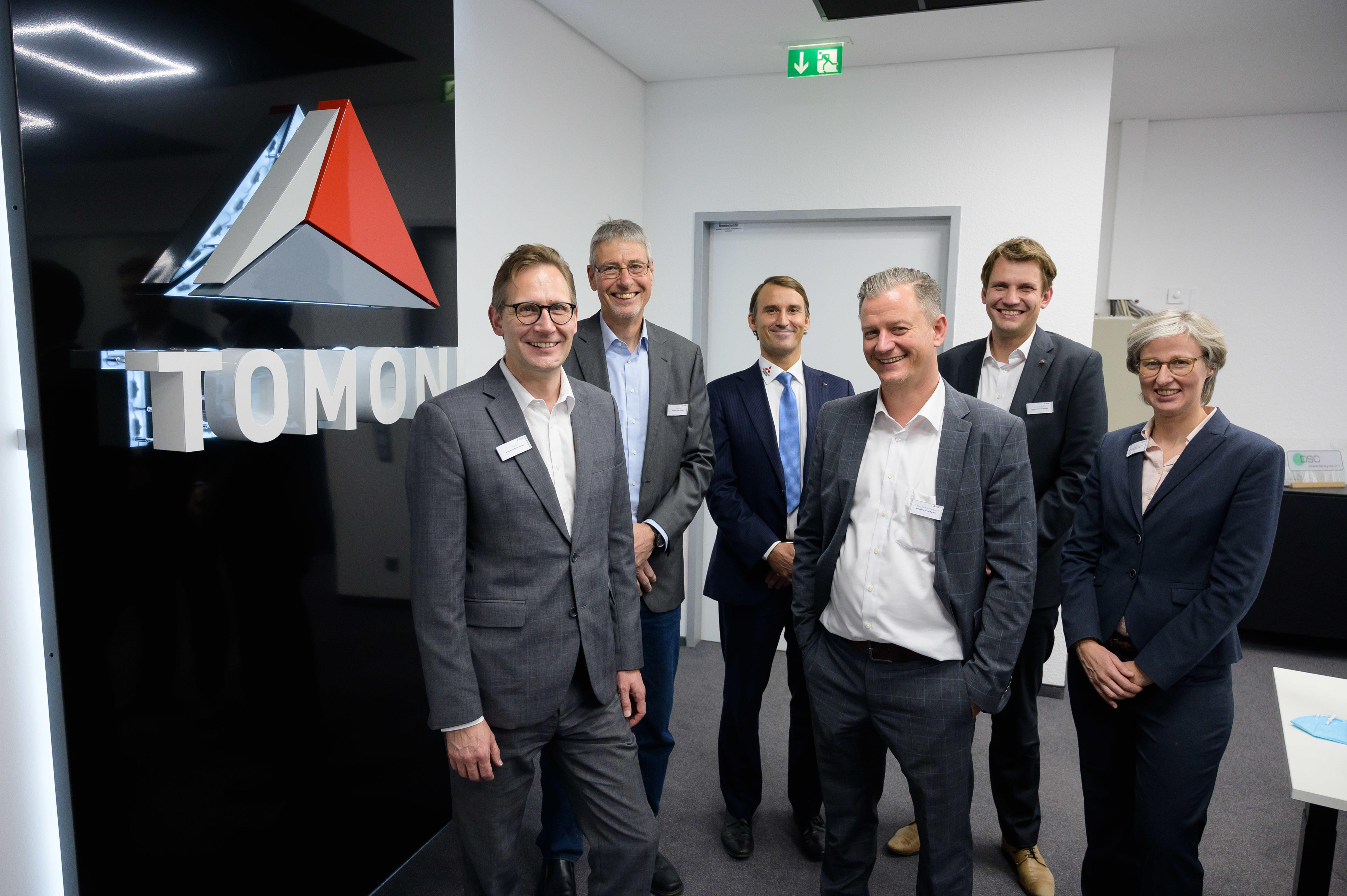 From left to right: Thomas Bohner, Volker Leonhard, Carlos Peton, Tobias Rüschhoff-Nadermann, Falk Hoffmeister, Simone Hafner (masks only removed for photo)
For more information about TOMONI™, please visit: https://power.mhi.com/tomoni
PRESS CONTACT
Claudia Wedemann
Mitsubishi Power Europe GmbH
Tel.: +49 203 8038 1368
E-Mail: [email protected]
###
About Mitsubishi Power in Europe, the Middle East and Africa
Mitsubishi Power Europe, Ltd. is a leading provider and innovator of technology and solutions for the energy sector, who with its predecessor companies have had a presence in the region since 1908. Today, there are more than 1,000 employees across Europe, the Middle East and Africa, with centers of excellence in Germany, the United Kingdom, Saudi Arabia and the United Arab Emirates, in addition to customer support capabilities in countries across the region. Mitsubishi Power designs, manufactures and maintains equipment and systems that drive decarbonization and ensures the delivery of reliable power. Among its solutions are a wide range of gas turbines, including hydrogen-fuelled gas turbines and solid-oxide fuel cells (SOFCs), and an experienced services business with an extensive reach across the entire region. Committed to providing exemplary service and working with customers, Mitsubishi Power's TOMONI™ intelligent solutions leverages advanced analytics, adaptive control technology, artificial intelligence and machine learning to make power plants smarter, lowering emissions, increasing flexibility and supporting decarbonization. Mitsubishi Power is a power solutions brand of Mitsubishi Heavy Industries, Ltd. (MHI), whose engineering and manufacturing businesses span energy, infrastructure, transport, aerospace and defense.
For more information, please visit: https://power.mhi.com/regions/emea/
---