Pilot plant uses CO2 for synthesizing methanol
Duisburg/Niederaußem, May 28, 2019 – Reducing carbon dioxide emissions, making expedient use of excess electricity from renewable energy and thereby contributing to climate protection: these are the goals being accomplished by a new pilot plant built by Mitsubishi Hitachi Power Systems Europe (MHPS Europe) now being commissioned jointly with the client RWE Power and other partners at the power plant site in Niederaußem.
The "MefCO2" Project takes CO2 generated and separated at the plant and uses hydrogen to convert it into methanol. The hydrogen used in the process is captured by means of electrolysis using excess electricity from renewable energy. The new facility can produce up to a ton of methanol daily from 1.5 tons of carbon dioxide, which can then be put to a variety of uses.
Methanol can be used, for example, directly as fuel or further refined into synthetic gasoline or dimethyl ether (DME) and then employed as a diesel substitute in heavy cargo or shipping transport. This results in drastic reductions in emissions of nitrogen oxide and soot particles. It can also be used to operate diesel generators, which are employed in supplying peak load and emergency power, for example. Methanol is also in great demand worldwide as a raw material used in the chemical industry.
"These types of synthetic fuels can take the place of fossil resources and significantly reduce CO2 emissions," says Thomas Bohner, CEO at MHPS Europe. As part of the MefCO2 Project, the company was responsible for engineering, procurement and commissioning, and, working in a consortium with eight other partners (manufacturers, universities and research institutes from several European countries), oversaw the integration of various components and systems. The budget of the project, which is being funded by the EU under its research and innovation project Horizon2020 (Grant Agreement No. 637016), is about 11 million Euro.
The process of synthesizing methanol from carbon dioxide and hydrogen could be useful not only in power plants. Waste incineration and industrial facilities also produce CO2, which can be converted into a valuable commodity through projects like the one in Niederaußem. For MHPS Europe the MefCO2 pilot plant is just one of several elements on the road toward building a low CO2 energy landscape. "Our company is able to draw on a broad range of relevant technologies that are either already in use or soon will be," says Thomas Bohner. "These range from fuel cells to geothermal systems as well as hydrogen-powered gas turbines."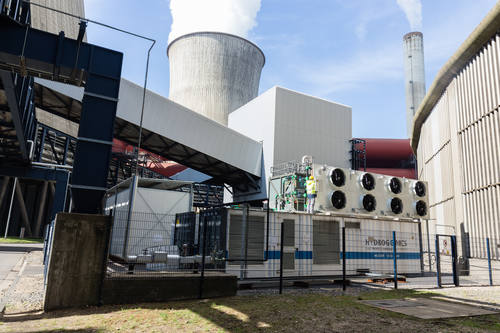 Contact
Hasan Gürpinar
Communication
Mitsubishi Hitachi Power Systems Europe GmbH [email protected]
Tel. +49 203 8038-1661
Fax +49 203 8038-1809
About Mitsubishi Hitachi Power Systems, Ltd.
Mitsubishi Hitachi Power Systems, Ltd. (MHPS), headquartered in Yokohama, Japan, is a joint venture formed in February 2014 by Mitsubishi Heavy Industries, Ltd. and Hitachi, Ltd. integrating their operations in thermal power generation systems and other related businesses. MHPS today ranks among the world's leading suppliers of equipment and services to the power generation market, backed by 100 billion yen in capital and approximately 20,000 employees worldwide. The Company's products include GTCC (gas turbine combined-cycle) and IGCC (integrated coal gasification combined-cycle) power plants, gas/coal/oil-fired (steam) power plants, boilers, generators, gas and steam turbines, geothermal power plants, AQCS (air quality control systems), power plant peripheral equipment, digital solutions and solid-oxide fuel cells (SOFC).
About Mitsubishi Hitachi Power Systems Europe GmbH
Mitsubishi Hitachi Power Systems Europe GmbH, which is headquartered in Duisburg and is a subsidiary of the global company Mitsubishi Hitachi Power Systems, Ltd., plans and constructs power plants and offers long-term service and maintenance contracts. The plant constructor also delivers key components such as gas turbines, steam generators and environmental technology. As the market and technology leader, e.g. for gas turbines or steam generators, the company focuses on modern, environmentally friendly and efficient plants. The company employs around 670 staff in Duisburg.
---