Plant and Technology Service

Mitsubishi Power Europe provides a complete array of services for modernization of power plants, which differ in design and size for all conventional fuels. We deliver customer-oriented service and rehabilitation for utility steam generators (boilers) and components, e.g. mills, burners, firing systems, coal feeders etc.
All-round Service for your Plant
Tried-and-tested Modernization and Rehabilitation
24/7 Emergency Call
+49 (0) 172 26 08 481
Furthermore, Mitsubishi Power Europe has its own manufacturing facilities which include pressure parts, burners and coal mills to provide timely, high quality service. As designer and manufacturer of original parts, Mitsubishi Power Europe is the ideal partner for revamping and spare parts requirements. Our integrated service business has bases and branches in Europe, Middle East and Asia, which enables us to react swiftly and flexibly to customer needs.
Extensive Energy Service Network in Europe, Middle East & Africa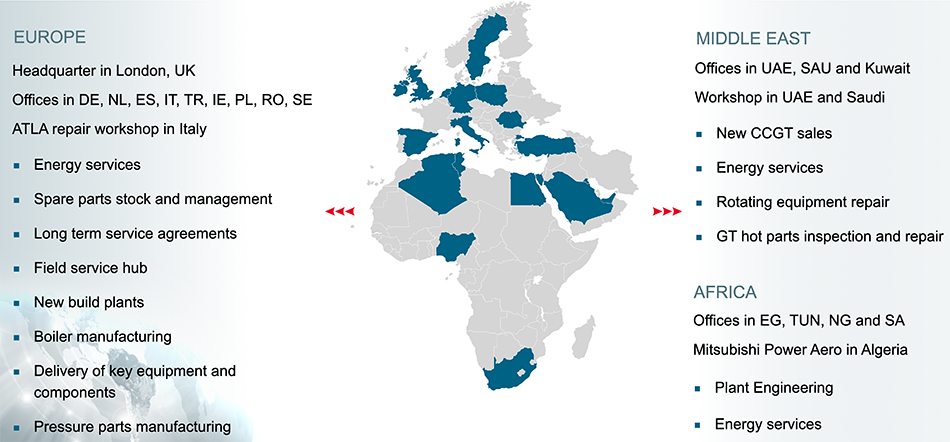 Our clients

Customer focus through regional responsibility
Andreas Rupp
Head of Sales &
Procurement

Mobil: +49 172 1519071
[email protected]

Tim Klein
Sales Manager 
North & West Europe

Mobil: +49 151 55717950
[email protected]

Thomas Pahnke
Sales Manager
North & West Germany

Mobil: +49 170 7055191
[email protected]

Heinz Wienen
Sales Manager
East Europe

Mobil: +49 160 98247135
[email protected]
Mohsen Moussaoui
Sales Manager
Middle East, North Africa, 
Turkey
Mobil: +49 160 96967516
[email protected]

Florian Wittfeld
Sales Manager
South Germany, Austria,
Switzerland
Mobil: +49 160 2924011
[email protected]

Clemens Wolters
Sales Manager
South Europe

Mobil: +49 171 7658586
[email protected]

Wolfgang Abeck
Sales Manager
South Africa

Mobil: +49 172 4575146
[email protected]