ACK Philippines, Inc. The Local Subsidiary Of Our Business Partner, Ack Co., Ltd. Became A Peza Registered Company. The Signing Ceremony Was Held In Manila.
ACK PHILIPPINES, INC. THE LOCAL SUBSIDIARY OF OUR BUSINESS PARTNER, ACK CO., LTD. BECAME A PEZA REGISTERED COMPANY. THE SIGNING CEREMONY WAS HELD IN MANILA.
On April 24, 2012, the signing ceremony for ACK Philippines, Inc. (located in Laguna Techno Park / Mr. Ebisu, President) becoming a registered company of PEZA (Philippine Economic Zone Authority) was held in Manila.
ACK Philippines is a local subsidiary of ACK Co., Ltd.(Headquarters in Fukuoka/ Mr. Matsumoto, President) which is our partner in business. This registration will grant a privilege to allow income tax exemption, simplified import/export procedures and other benefits. We have been increasing efforts in setting up a logistic and procurement base of MHI DIASYS NETMATION at the board factory.
We will continue cooperating with ACK Co., Ltd. to promote this factory to be our hub in Philippines.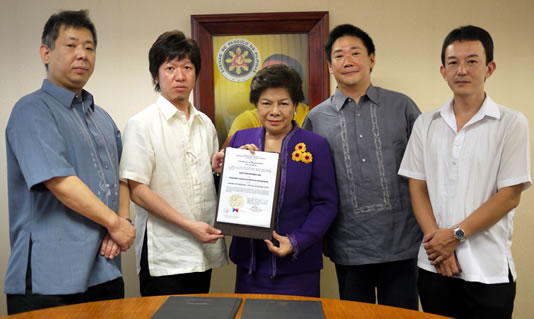 ---