STEP4 Operation support and maintenance

[1] Regular inspections
Daily, Weekly, monthly, and every other month
Advice provided on operation, inspections, and maintenance performed by the user. Prevents downtime due to problems by means of early detection of signs of malfunctions.
[2] Inspections during idle time
Once every 1-2years
Inspection by an Mitsubishi Heavy Industries Power Environmental Solutions specialist together with the user and the proposal of an appropriate repair plan.
[3] Repairs during idle time
Once every 1-2years
Repair work based on the user's operating plan and the results of the inspection during idle time ensuring quality and a short work period with foremost priority on safety.
[4]Facilities diagnostics
10 years from installation
Precise measurement of corrosion, wear, and deterioration of the equipment and diagnosis of its remaining life. Proposal of a large-scale overhaul, repairs, or performance upgrade according to the user's needs.
[5]Major repairs / overhaul / retrofit
Execute in a short work period using an improvement plan based on the facilities diagnostics, laser scans and 3D CAD by means of appropriate design and schedule management.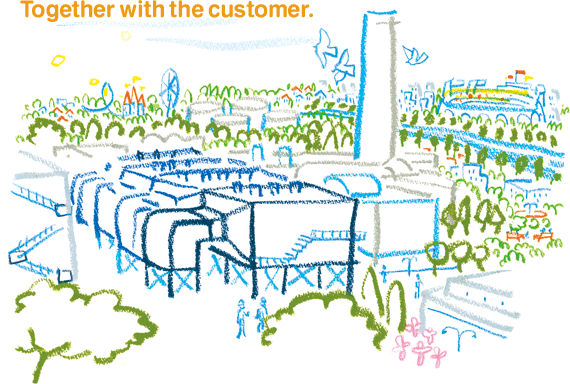 ---
STEP1 Planning

Proposal of ESP system that meets the user's needs by mobilizing the latest Computer Aided Engineering (CAE) technologies.

STEP2 Fabrication and construction

Manufacture, fabrication and construction ensuring quality and short construction period with foremost priority on safety by mobilizing the latest CAE technologies and manufacturing/construction technical capabilities.

STEP3 Inspection and commissioning

Inspection and field tests by a specialist in quality assurance, trial operation, adjustment, and handover.

STEP4 Operation support and maintenance

Support for operation and maintenance provided with close attention by an assigned specialist.