Offensive Odor and VOC (Volatile Organic Compounds) Control
A fully integrated engineering solution to factory environment improvement tasks
Summarized proposition
Offensive odor and air pollution control regulations are toughening from year. Environmental management systems are increasingly keener to get certified under ISO14001. Better methods of earth-friendly environmental control are now sought. Offensive odors and VOC exhaust gases, however, are such many and diverse that there is no uniform solution to cope with all of them.
We come up with economical system solutions best suited for individual sources of offensive odors and VOC exhaust gases that build on our extensive record of proven performance and cutting-edge technology.
Outline of the system
Solvent recovery equipment
Our solvent recovery equipment combines the three advantages of resource conservation, economics and environmental improvement.
Plant Type
Suited for large-capacity treatment purposes. Economical and consistent performance.
Package Type
Suited for smaller-capacity treatment purposes. Ideal for halogenated hydrocarbon treatment.
Exhaust heat recovery
(Steam regeneration equipment)
Waste solvent recycling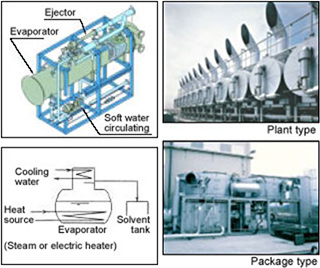 Direct combustion equipment
High-efficiency deodorizing combustion saves energy requirements through total exhaust heat utilization.
Thorough heat recovery and vapor recovery
An optimal mix of a combustion furnace, an exhaust gas recovery boiler and a heat exchanger.
Energy conservation keeping track of load changes
Combustion and exhaust eat recovery kept under optimal control to minimize combustion improver requirements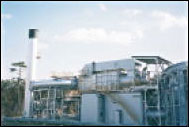 Concentrator
Allows low-concentration lower-airflow exhaust gases to be treated efficiently with a minimum heat recovery ratio of 90 percent.
Continuously rotating honeycomb rotor
Five to 10 times higher concentration ratios
Best suited for treating environmental exhaust gases
Working in conjunction with recovery equipment or combustion equipment.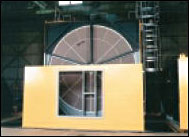 Regenerative combustion equipment
Allows low-concentration lower-airflow exhaust gases to be treated efficiently with a minimum heat recovery ratio of 90 percent.
Drastic cut in combustion improver requirements
A heat recovery ratio of 90 percent or more.
Selection of processes suited to airflow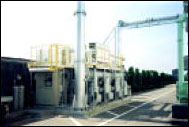 Other types of deodorization equipment (impregnated charcoal, biological deodorization method, chemical cleaning method)
We are also ready to offer you an optimal system solution to your extremely low-concentration deodorization needs.
Information prerequisite to quoting your system
Exhaust gas components, airflow, temperature, mist concentration, composition, sources, equipment conditions and more.
Exhaust gas measurement will be carried out as needed to come up with a fully integrated engineering solution geared at your specific needs, including the choice of optimal exhaust gas treatment equipment.
---