(Energy Conservation III) Exhaust Heat Recovery Adaptive to Usage Goals Effective Resources Utilization
Effective Resources Utilization
Summarized proposition
The solvent recovery equipment employs a variety of automatic energy-saving systems adaptive to operating conditions. It can be introduced in conjunction with a goal-specific exhaust heat recovery system.
While part of the steam used for desorption is discharged from the adsorption tower to heat the activated charcoal, desorb the solvent and so on, a greater proportion of it is used as a carrier for the desorbed solvent and emerges from the adsorption tower as mixed steam.
This heat of condensation has traditionally been discharged to the atmosphere on cooling water (cooling tower), but now it could be recovered for reuse as a heat source.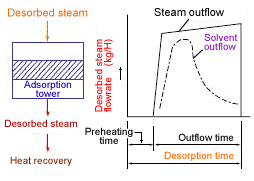 Outline of the System
Holt water and cold water recovery system
Desorbed steam exhaust heat on heating in the adsorption tower is recovered as hot water in the hot-water heat exchanger in the winter and as coldwater in the absorption refrigerator in the summer.
Heat thus recovered by the recovery equipment is directed to the air-conditioning systems to economize on their steam and fuel consumption, thereby saving energy requirements across the plant. Desorbed steam or recovered hot water can be directly used as a heat source for the absorption refrigerator.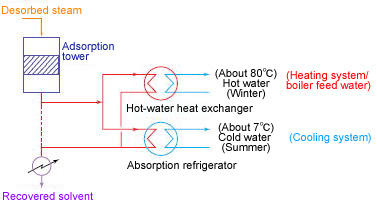 Steam Regeneration System
Desorbed steam exhaust heat generated on heating in the adsorption tower is used to heat hot water and evaporate it in a vacuum at the same time so as to regenerate low-temperature steam for reuse as desorbed steam.
Either a steam ejector or steam compressor (Roots blower) is used to suck and transport evaporated steam.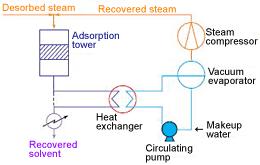 ---