MHPS Receives Order from Taiwan Power Company for Coal-fired Boiler and Environmental Facilities Renovation Project at Taichung Thermal Power Plants Units 1-4
Yokohama, June 14, 2016 -- Mitsubishi Hitachi Power Systems (MHPS) has received a full turnkey contract order for a boiler and environmental facilities renovation project from Taiwanese State-run Taiwan Power Company (Taipower). The project will be undertaken in collaboration with Taiwan's largest engineering construction firm CTCI (CTCI Corporation) on Units 1-4 of the Taichung Thermal Power Plant. Construction is planned to be completed in November 2019.
This project at the Taichung Thermal Power Plant Units 1-4 is aimed at cutting NOx (nitrogen oxide), SO2 (sulphur dioxide) and particulate emissions from the coal-fired boilers in line with Taiwan's tougher environmental regulations. MHPS will manufacture and supply the equipment needed for the renovation, such as boilers (burners), mills, desulfurization equipment and electric precipitators, and CTCI will manage the civil works and installation. Mitsubishi Corporation will act as the trading company.
Based on Taiwan's 2008 "Framework of Sustainable Energy Policy", the country is aiming to keep CO2 emissions at 2008 levels from 2016 to 2020, then reduce them to 2000 levels (221 million tons) by 2025, and has also toughened restrictions on other environmental pollutants. Based on this situation, existing coal-fired power plants are strengthening their environmental measures, and this project is part of those efforts.
Taipower is a publicly owned utility and the sole integrated power generation, transmission and distribution company in Taiwan. In 2003, Mitsubishi Heavy Industries, Ltd. received an order from Taipower for the Dah-Tarn GTCC power generation facility; this was followed in 2011 by an order for a construction project at Linkou Thermal Power Plant, Units 1, 2 and 3, and then by a 2013 project at Tunghsiao GTCC Power Plant. All orders were received jointly with CTCI. These projects were carried out by MHI and the contracts were taken over by MHPS when it was formed in 2014.
MHPS will continue to actively expand sales activities of its facilities that enable efficient use of fossil fuels and reduction of environmental impact and contribute to ensuring stable power supply and improving the environment by reducing emissions such as SO2, NOx and particulates.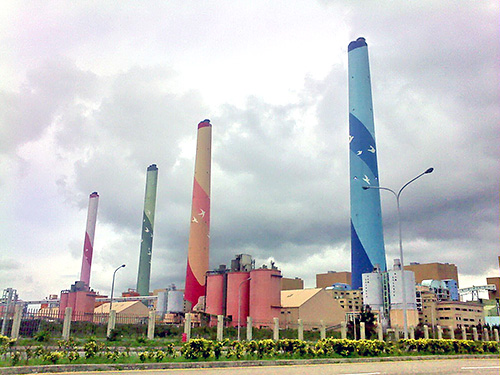 ---