Mission statement
Mitsubishi Power is creating a future that works for people and the planet by developing innovative power generation technology and solutions to enable the decarbonization of energy and deliver reliable power everywhere.
Business Brand Logo

The logo font, a roundish, modern design in a gothic typeface, was adopted to present an image of the advanced, environment-friendly power solutions that Mitsubishi Heavy Industries Group seeks to offer, while at the same time expresses a stance of responding flexibly to society changes.
Global Network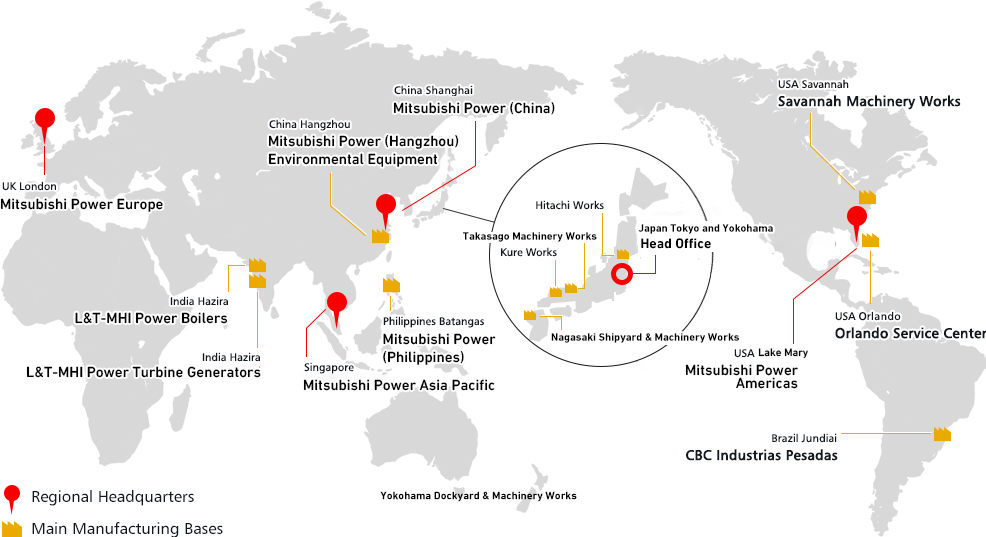 Works & Plants
Overseas Offices
Moscow Representative Office (Russia)
Basra Branch (Iraq)
Middle East and North Africa (MENA) Branch (U.A.E.)
Kuwait Branch

 

Doha Branch (Qatar)
Taipei Branch (Taiwan)

 
Group Companies
Japan
Europe, Near and Middle East, Africa
UK
Belgium
MHI Power Aero Europe SRL

 
Germany
Babcock Fertigungszentrum GmbH

 
Italy
Romania
Russia
MHI Power Aero Energy CIS LLC

 
Nigeria
Algeria
SARL MHI Power Aero Algeria

 
Egypt
Mitsubishi Power Egypt, L.L.C.

 
Saudi Arabia
Mitsubishi Power Saudi Arabia Limited, Co

 
U.A.E.
MHI Power Middle East LLC

 

MHI Power Middle East for Manufacturing Parts and Machinery LLC
South Africa
Asia, Oceania
India
Singapore
Thailand
MHI Power Project (Thailand) Co., Ltd.

 
Indonesia
PT. Mitsubishi Power Indonesia

 
Philippines
MHI Power (Philippines) Plant Services Corporation
China
MHI Power Dalian Electricity Equipment Co., Ltd.

 

Mitsubishi Heavy Industries Dongfang Gas Turbine (Guangzhou) Co., Ltd.

 

MHI Power Jieneng (Qingdao) Steam Turbine Co., Limited
MHI Power Dongfang Boiler Co., Ltd.

 

Mitsubishi Power Gas Turbine Engineering Technology (Nanjing) Co., Ltd.

 

MHI Power (Beijing) Management and Consulting Ltd.

 
Korea
MH Power Systems Korea, Ltd.

 
Australia
North America, Central America, South America
U.S.A.
MHI Power Florida LLC
MHI Power Aero International LLC
Energy Services LLC
Power Generation Services, Inc.
Wood Group Pratt & Whitney Industrial Turbine Services, LLC

 

Mohawk Labor Services, LLC
Oriden LLC
Canada
Mexico
Mechanical Dynamics & Analysis de Mexico, S.A. de C.V.
Puerto Rico
MHI Power Puerto Rico LLC
Venezuela
MHI Power de Venezuela, C.A.
Colombia
MHI Power Colombia S.A.S.
Ecuador
MHI-Power Ecuador CIA. LTDA.
Brazil
Mitsubishi Power South America EIRELI

 

CBC Industrias Pesadas S.A.

 
Chile
Argentina
MHI Power Argentina S.R.L.
MHI Power Aero Argentina S.R.L.