Geothermal Power for Sustainable Development in Kenya

2017-02-28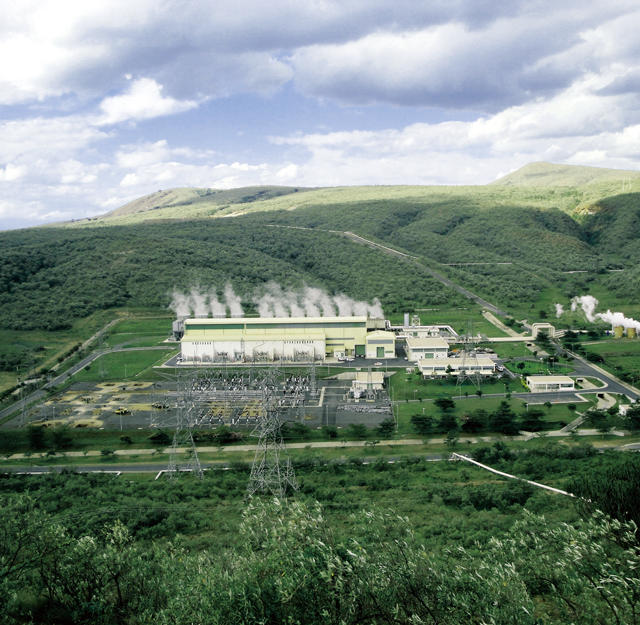 Geothermal Power Plant
 

Client
Kenya Electricity Generating Company (KenGen)
Power Plant
Olkaria Geothermal Power Plant
Total Output
322.1 MW
Country / Region
Republic of Kenya (Nakuru District)
Product
Geothermal Power Plant
Timeline
I  – Unit 1 / 1981
      Unit 2 / 1982
      Unit 3 / 1985
II – Unit 1 and Unit 2 / 2003
      Unit 3 / 2010
V – Unit 1 and Unit 2 / 2019
Overview
---
Becoming the Eighth Largest Geothermal Power Producer in the World, Contributing to Both Environmental Conservation and Economic Development
The Republic of Kenya is located in East Africa, just below the equator and facing the Indian Ocean to the east. Most of the country is highland savannah. Nearly 50 million people are living in an area of about 580,000 square kilometers. The population has increased by about 20%, or by nearly 9 million people, over the past 10 years (Note1). Maintaining a real GDP growth rate in the 4-6% range (Note2), Kenya is regarded as one of the fastest growing countries in Africa. The government of Kenya has long believed that electrification of the country is essential to promote economic growth. In 2008, the government formulated a long-term development strategy, "Kenya Vision 2030," to achieve 100% domestic electrification by 2022 as a national goal. The breakdown of country's power sources is 36% hydroelectric, 31% thermal, and 29% geothermal as of 2017. In order to achieve sustainable economic development, Kenya needs a stable supply of environmentally friendly and highly reliable energy.

1

JETRO [2019.11] "First census in a decade showed that the population growth rate has slowed although the population increased about 9 million over 10 years." (https://www.jetro.go.jp/biznews/2019/11/7c8595e4aa47506c.html)

2

IMF World Economic Outlook Databases [as of 2019]. (https://www.imf.org/en/Publications/WEO/weo-database/2020/April)
In fact, Kenya has the Great Rift Valley, which is a rich resource of geothermal energy. In order to utilize this abundant blessing of nature, Kenya initiated the development of geothermal power generation in the 1970s. The center of this development is the Olkaria geothermal power plants, located about 100 kilometers northwest of the capital of Nairobi. We delivered steam turbines and other power generation equipment to Olkaria I in 1981 and to Olkaria II in the 2000s. Mitsubishi Power was awarded the contract for the Olkaria V project based on our track record of maintaining a high and stable operating rate for 40 years. The Olkaria V power plant was delivered and commenced operations in December 2019. Olkaria V is one of the largest geothermal power plants in Kenya, with a single unit output of 86.2 MW. With this addition, Kenya's geothermal power generation capacity, which had previously ranked ninth in the world, surpassed that of Iceland to become the eighth largest in the world.
Outcomes
---
Maintaining the Largest Power Generation Capacity in Kenya in Harmony with the Natural Environment
As the Olkaria V began its operation in 2019, Kenya's geothermal power plants' capacity increased from 651 MW to 816 MW. Geothermal power became a major driving force for sustained economic growth in Kenya. In addition to geographical factors, there are also environmental and economic reasons for Kenya to focus on geothermal power generation. Kenya has become the "leading geothermal power producer" in East Africa and has been advising neighboring countries.
In geothermal power generation, heat energy from underground magma body is extracted and converted into electricity by turbines, generators, and other equipment. Geothermal plants can generate electricity 24 hours a day, regardless of weather conditions. Geothermal is a clean power generation system with low CO2 emissions and can reduce emissions to just 13 grams CO2/kWh (Note3) while the average emissions from coal-fired power generation is 943 grams of CO2/kWh.
Hydroelectric power generation is also regarded as a clean power generation method. However, it is affected by significant seasonal fluctuations in water volume, and it is not well suited for regions that are prone to drought, such as Kenya, as that can affect the stability of the supply of electricity. Thermal power generation has some merit in maintaining stable operations, but for Kenya where oil and gas resources are scarce, it would be necessary to spend precious foreign currency to import fuel, which presents an economic challenge. On the other hand, the fuel for geothermal power generation is magma deep below the earth's surface, so there is no need for importation as the geothermal resources are abundant underground in Kenya.

3

Central Research Institute of Electric Power Industry [2016.7] "Comprehensive Life Cycle CO2 Emissions Assessment of Power Generation Technologies in Japan" (https://criepi.denken.or.jp/hokokusho/pb/reportDetail?reportNoUkCode=Y06)
Solutions
---
Playing a Central Role in a Consortium of Three Companies, Including a Local Company
Olkaria V was delivered to Kenya Electricity Generating Company PLC (KenGen). KenGen is in charge of geothermal resource exploration and power plant operations. The Olkaria V project was carried out with an ODA (Official Development Assistance) loan arrangement that was extended to KenGen by the Japanese Government through the Japan International Cooperation Agency (JICA). For this project, we formed a three-company consortium working with Mitsubishi Corporation and H. Young & Company (East Africa) Ltd., a Kenyan construction company. In addition to taking charge of the design of the geothermal facilities, Mitsubishi Power supplied the steam turbine, generator, condenser, and other main auxiliaries. Mitsubishi Power dispatched Technical Advisors to oversee the installation and commissioning of the system, utilizing our many years of experience as an EPC (engineering, procurement, and construction) contractor.
However, we were also aware that maximizing utilization of local human resources would help regional development and contribute to Kenyan society. That's why we requested the participation of H. Young & Company, the largest construction company in Kenya, in the construction and installation of the Olkaria V plant.
Team Testimonials
---
Geothermal Power System Project Group, Nagasaki Plant Engineering Department,
Steam Power Maintenance Innovation Business Division,
Energy Transition & Power Headquarters,
MITSUBISHI HEAVY INDUSTRIES, LTD.

Yu Morita

We have received orders for a total of 112 units of geothermal power generation equipment in 13 countries around the world. Seventy four of these have been under EPC contracts. Geothermal power generation uses low-purity, corrosive steam extracted from the ground. As such, it is important to design turbine blades and rotors that can deal with corrosive steam to ensure the functionality of the equipment. We have conducted a series of validations under different steam conditions around the world and selected materials based on the accumulated data. We then conducted strength analysis to achieve both safety and economic efficiency. Among the many types of power generation systems, designing geothermal power generation equipment especially requires many years of technological experience. The capabilities to make quality equipment that can be operated for 40 years, as is the case in the Olkaria geothermal power plants, cannot be created overnight. In Kenya and beyond, geothermal development in East Africa needs more than just the construction of power plants. It also requires excellent operation and maintenance technologies, which Japan can provide. Going forward, we will continue to provide advanced environmental technologies and highly efficient power generation equipment. We will continue to contribute to the development of Africa and further assist in their efforts to curb global warming.