Real-time Visualization of Geothermal Power Generation Contributing to Improve Performance and Profitability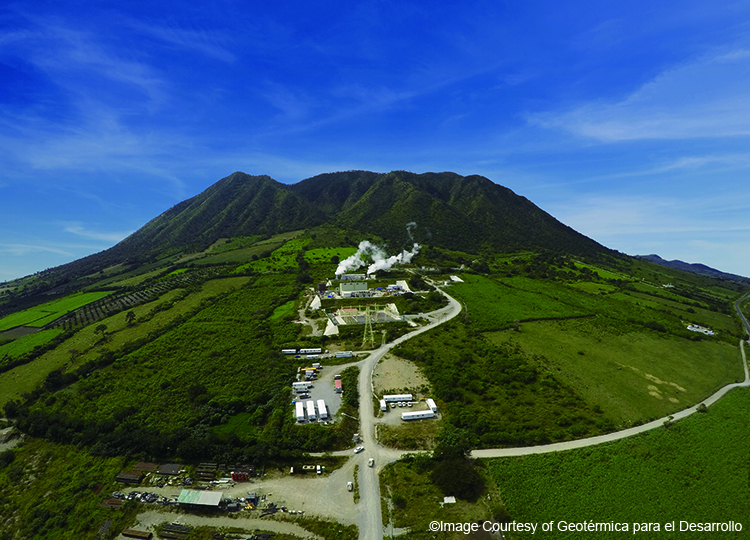 2021-04-26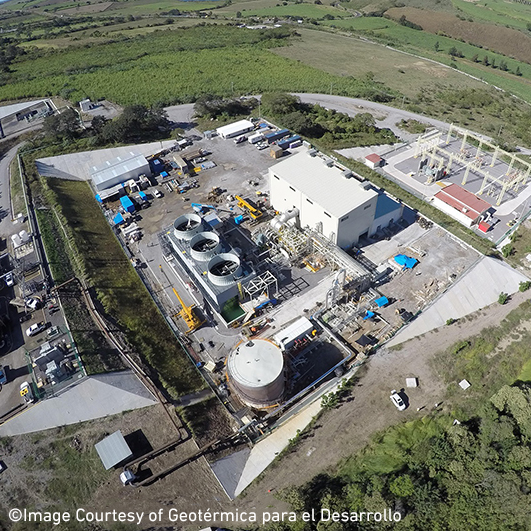 TOMONI®
 

Client
Geotérmica para el Desarrollo S.A.P.I. de C.V. (GEODESA)
Power Plant
Domo de San Pedro Geothermal Power Station
Total Output
25 MW
Country / Region
Mexico (Nayarit)
Main Services
Suite of intelligent solutions, TOMONI®
Timeline
Order in 2020, Installation in 2021
Overview
---
Geothermal Energy to Meet Increasing Demand for Electricity
Mexico is blessed with underground resources such as oil, natural gas, and coal. Oil especially was a major pillar for the country's economy after World War II. In recent years, however, production of oil, natural gas, and coal has been rapidly declining. On the other hand, demand for electricity has continued to grow, more than doubling in the past 20 years, along with economic development and population growth. Meanwhile, the amount of electricity generated has increased by 24.3% over the past 10 years, and is expected to increase by an average of 3.1% annually until 2032. The development of energy sources for a stable power supply has become an urgent issue. (Note1) Located in the volcanic belt of the Pacific Rim, Mexico has the world's fifth largest geothermal resources (Note2) and the sixth largest geothermal power generation capacity. (Note3) As such, geothermal power is expected to play an important role in Mexico's energy future. Mitsubishi Power has been involved in geothermal power generation projects in Mexico for 40 years ago.

1

SENER [2018.6] "PROGRAMA DE DESARROLLO DEL SISTEMA ELÉCTRICO NACIONAL: PRODESEN 2018-2032" (https://www.gob.mx/cms/uploads/attachment/file/331770/PRODESEN-2018-2032-definitiva.pdf)

2

Ministry of Economy, Trade and Industry [2016.6] "Current Status and Issues of Geothermal Resource Development" (https://www.meti.go.jp/shingikai/enecho/shigen_nenryo/pdf/018_02_00.pdf)

3

Think Geo Energy News [2020.1] "ThinkGeoEnergy's Top 10 Geothermal Countries 2020" (https://www.thinkgeoenergy.com/thinkgeoenergys-top-10-geothermal-countries-2020-installed-power-generationcapacity-mwe/)
Supplying a Total of 13 Geothermal Power Generation Plants for the Development of Energy Resources in Mexico
Nayarit is a small state in Western Mexico and has a long coastline of more than 290 kilometers facing the Pacific Ocean. It has a subtropical climate, beautiful beaches, and wildlife, such as wild birds and whales. It is also known for great food, and the gastronomy of Nayarit has been declared as an Intangible Cultural Heritage by the State Congress. Nayarit is a popular destination for tourists.

The Domo de San Pedro Geothermal Power Station is located approximately 50 kilometers south of Tepic, the capital of Nayarit. In 2016, Mitsubishi Power delivered a geothermal power generation plant to the station. As we had previously received orders from Comision Federa; de ElectricidadL CFE for 12 geothermal power generation plants (two power stations, each with six power generation plants), this latest geothermal power generation plant for the Domo de San Pedro Geothermal Power Station became the 13th. Our share of the total installed capacity of power generation in Mexico has reached approximately 40% share in terms of the capacity of thermal and geothermal power generation facilities, and it can be said that we are playing a major role in the development of the country's power supply.

Domo de San Pedro Geothermal Power Station
TOMONI® Monitoring Changing Conditions in Geothermal Power Plant for the First Time
Commemorative photo from the signing of the 2020 TOMONI installation contract (Center left: Director Mauricio Chapa of GEODESA, Center: Director Juan Luis Del Valle of GEODESA, Center right: President Miguel Vallejo of MHPS Mexico).

Note: Individual titles are as of the time of signing the contract.

The Domo de San Pedro Geothermal Power Station is operated by Geotérmica para el Desarrollo S.A.P.I. de C.V. (GEODESA) under Grupo Dragón, a Mexican power generation company. Grupo Dragón is mainly engaged in the renewable energy business, and its subsidiary GEODESA has been developing geothermal and solar power plants. As the Domo de San Pedro Geothermal Power Station is the first geothermal power station built by a private company in Mexico, the project needed an expert plant supplier. In 2014, Mitsubishi Power was selected as the contractor for the design, manufacturing, procurement, installation, construction and test run of the steam turbines and other main and auxiliary equipment. The plant started operation in 2016, and its output reached 25 MW. However, steam conditions began to diverge from optimal design parameters with the aging of production wells. To address these changes, our suite of intelligent solutions, TOMONI® has been introduced to monitor the performance changes and provide options for solutions as needed.
Outcomes
---
Real-time, 24-hour Monitoring of the Plant Contributing to Greater Efficiency and Reliability
For geothermal power generation, steam or hot water that has been heated by underground magma is extracted from a production well. The steam is then used to drive a turbine to generate electricity. Since the heat energy from the magma is used directly to create steam, there is no need to use any fossil fuels. This makes it a clean energy source with extremely low CO2 emissions. Further, unlike other renewable energy sources such as solar or wind, geothermal power generation is not affected by weather conditions or changing seasons. Thus, the capacity factor rate of geothermal power generation is over 80%, which is much higher than solar power (10-21%) or onshore wind power (23-44%) (Note4). Because of this, geothermal power is expected to become an important source for baseload power.

However, geothermal power generation is affected by changing conditions in the production wells, so it requires constant real-time monitoring to ensure achieving the planned power generation capacity. In this project, the operating status of the plant is monitored 24 hours a day by TOMONI®, and the operational data is analyzed so that we can make recommendations to improve performance. Our services utilizing TOMONI can help optimize the operation, increasing economic efficiency and reliability while contributing to the profitability of geothermal power generation.

4

IEA [2018] "Average annual capacity factors by technology, 2018" (https://www.iea.org/data-and-statistics/charts/average-annual-capacity-factors-by-technology-2018)
Ministry of Economy, Trade and Industry [2017.6] "Current Status of Geothermal Resource Development"(https://www.meti.go.jp/shingikai/enecho/shigen_nenryo/pdf/022_04_00.pdf)
Solutions
---
Three Forces Working Together to Make Geothermal Power Generation Smarter
In the project, TOMONI® is connected to (1) the Domo de San Pedro Geothermal Power Station, (2) GEODESA's headquarters in Mexico, and (3) Mitsubishi Power's TOMONI HUB in Japan through the cloud to monitor and support the geothermal power station. Operational status of the station is shared with headquarters and the TOMONI HUB through TOMONI in real time. At the TOMONI HUB in Japan, specialists in operations and maintenance from Mitsubishi Heavy Industries are ready 24 hours a day, 365 days a year to provide engineering support. By monitoring plants over a long period and accumulating data, we can make proposals for needed maintenance and proactively provide support for operations, preventing unplanned power outages from occurring.
Client and Team Testimonials
---
Responding to Climate Change and Making Progress for Human Civilization
Operations Director
at Geotérmica para el Desarrollo S.A.P.I. de C.V. (GEODESA)

(Note)

Juan Luis Del Valle Luarca

"We have been pleased with Mitsubishi Power's expertise in building our geothermal plant, and we appreciate their expertise even more now as we are bringing TOMONI® intelligent digital solutions onboard to optimize plant operation. It is of great support having Mitsubishi Power together with our team closely monitoring the plant, analyzing our data, and developing solutions to ensure that we can provide reliable clean power to our customers."
Vice President of Intelligent Solutions
at Mitsubishi Power Americas, Inc.

(Note)

Marco Sanchez

"Geothermal power plants are important contributors to energy sector decarbonization. Because they rely on renewable underground reservoirs for steam to rotate turbines rather than on fuel combustion, they have zero carbon emissions. Geothermal wells present unique plant management challenges that Mitsubishi Power has been excited to model and optimize with our digital solutions for the Domo de San Pedro Geothermal Power Station. Tailoring TOMONI® intelligent digital solutions for geothermal plant applications furthers our company's mission to provide power generation and storage solutions to our customers, empowering them to affordably and reliably combat climate change and advance human prosperity. Together with our customers we are creating a Change in Power."

Individual titles are as of the time of signing the contract.