MHPS Receives Order for Gas Turbine Power Generation Equipment Fired by Blast Furnace Gas for Shougang Jingtang Company, China -- First Sale of Latest M701 S(DA) X Overseas Model --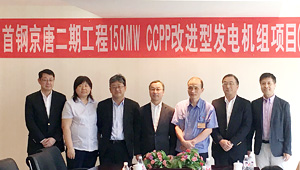 Yokohama, August 18, 2016 -- Mitsubishi Hitachi Power Systems (MHPS) has received an order for one train of blast-furnace-gas (BFG) fired gas turbine power generation equipment from Shougang Jingtang Iron & Steel Co., Ltd. (Shougang Jingtang Company). The equipment will be a key component of the Gas Turbine Combined-Cycle (GTCC) power plant that Shougang Jingtang Company plans to build in the Caofeidian Phase 2 Project in Tangshan, Hebei Province. In the project, low calorific value gas that is generated by the blast furnace process will be effectively used by the GTCC, and it will be the first time that the state-of-the-art M701 S(DA)X gas turbine will be used overseas to achieve high efficiency. Operations are planned to commence in the first half of 2018.
The Caofeidian Phase 2 Project, to which the GTCC power plant will be delivered, is currently being constructed on a man-made island (Caofeidian Island) off the shore of Tangshan, facing the Bohai Sea. MHPS will supply equipment including one M701 S(DA)X gas turbine and, the gas compressor. Mitsubishi Corporation will act as the trading company.
The M701 S(DA) X gas turbine has improved performance compared to the current M701 S(DA) gas turbine due to its larger capacity, and is the latest D class model.
Shougang Jingtang Company is an iron and steel company founded in 2008, headquartered in Tangshan. Operations at the Caofeidian Phase 1 Project began in 2008, with an annual production of about 10 million tons of pig iron. The second phase of the project (Step 1), now under construction, is planned to have an annual production of about 5 million tons of pig iron.
Because gas with significantly lower calorific value than natural gas is used as a fuel in BFG power generation, advanced combustion technology is required in the gas turbine for stable operations. MHPS has established proprietary BFG-fired generation technology over many years, such as through the development of its own combustion chambers. It has delivered BFG-fired gas turbines to many steelworks, both in Japan and around the world, and has a global market share of approximately 70 percent, including almost 70 percent in China.
Going forward MHPS will continue to proactively offer its BFG-fired power generation plants on the global market, which both contribute to improved economic efficiency for steel companies, and achieve more effective energy usage and reduced burdens on the environment, contributing to solving global scale issues.
---