MHPS Successfully Completes Turbine Generator Initial Turbine Roll Testing for Two Nuclear Power Plants in China -- Sanmen Unit 1 and Haiyang Unit 1 --
Yokohama, December 7, 2016 -- Mitsubishi Hitachi Power Systems, Ltd. (MHPS) has successfully completed the initial turbine roll testing for the Sanmen Unit 1 and Haiyang Unit 1 nuclear power plants, which is one of the important test items in the secondary system (turbine system) for pressurized water reactors (PWR). Both power plants will now go on to carry out fuel loading and various load testing, with operations scheduled to begin in the second half of 2017.
The Sanmen plants are being built by Sanmen Nuclear Power Co., Ltd. in Sanmen, Zhejiang Province, located about 300 kilometer south of Shanghai, while the Haiyang plants are being built by Shandong Nuclear Power Co., Ltd. in Haiyang, Shandong Province, about 130 kilometer east of Qingdao. Both power plants have an output of 1250 megawatt for each power generation facilities and the primary (nuclear reactor) systems of Sanmen 1 and Haiyang 1 will adopt the world's first and second commercialized 3rd Generation 1000 megawatt class PWRs respectively.
MHPS won successive orders for secondary system facilities at units 1 and 2 of both power plants in 2007 and 2008, in cooperation with Mitsubishi Electric and the major local company Harbin Electric Corporation. MHPS is responsible for providing four turbine generator units at the two power plants, comprising twelve low-pressure turbines and four high-pressure turbines. Harbin Electric is responsible for providing turbine casing, auxiliary equipment and so on, and Mitsubishi Electric and Harbin Electric will both supply are responsible for providing two generators each.
Initial Turbine Roll Tests are performed in order to confirm that no problems are encountered at any stage in the operation. The test at Sanmen 1 in particular, which attracted attention as an important benchmark for the nuclear power industry globally, since it was the first time that a 3rd generation PWR unit had been introduced. As the tests ran smoothly, both power companies gave favorable evaluations for MHPS's engineering capabilities, product quality and detailed technical support.
Going forward MHPS will continue to contribute to alleviating energy and environmental problems through the provision of safe and reliable nuclear power generation equipment and facilities including nuclear turbine power generation facilities for the global market.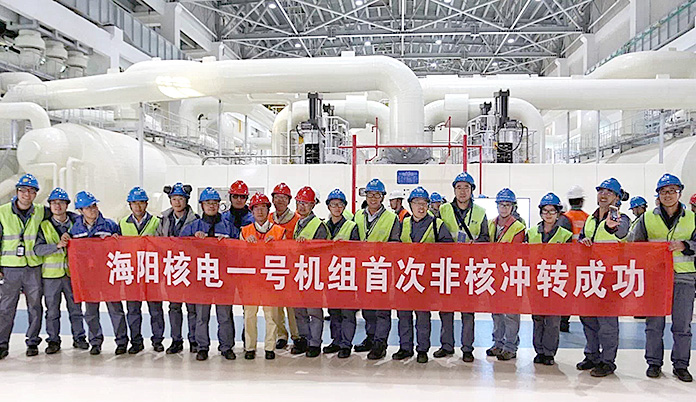 ---