A one-stop complex showcasing various AM technologies 
We have integrated our AM processes across material production, shaping, processing, characteristic evaluation, consultation and more, in a complex of airtight and moveable containers. This allows us to run several end-to-end fabrication processes independently while maintaining design confidentiality.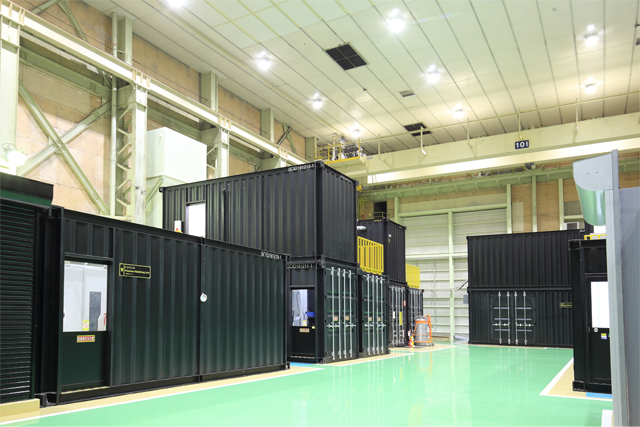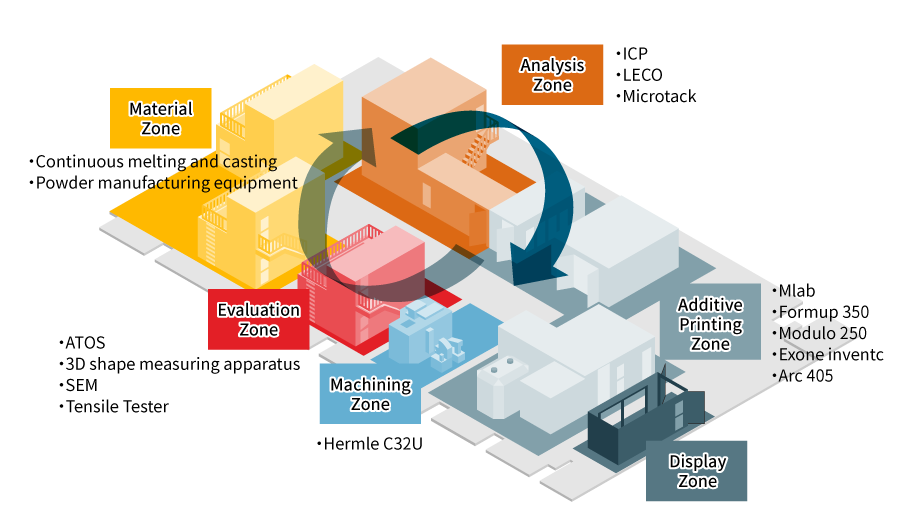 Powder 3D printer – Modulo250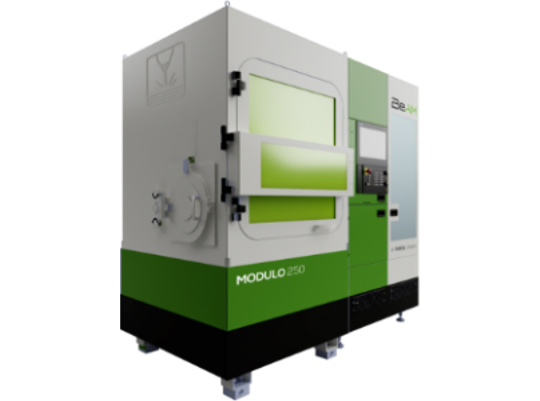 DED-system metal powder 3D printer which boasts a high deposition accuracy of +/-0.1 mm.
Molding size: φ250 × 300mm
Maximum load capacity: 50kg
Wire-deposition 3D printer – Arc405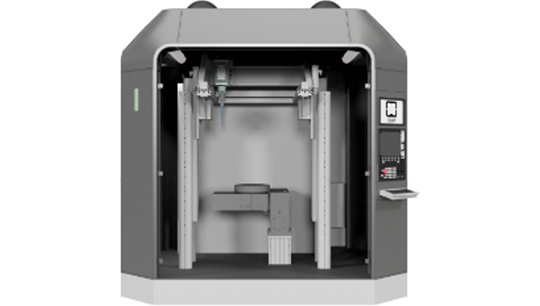 DED-system metal wire 3D printer that is capable of quickly producing parts from an SUS material or Ni-based alloy at a rate of 450 cm3/h (3.5 kg/h).
Molding size: φ700x300mm
Binder-jetting-system 3D printer – exone inventor+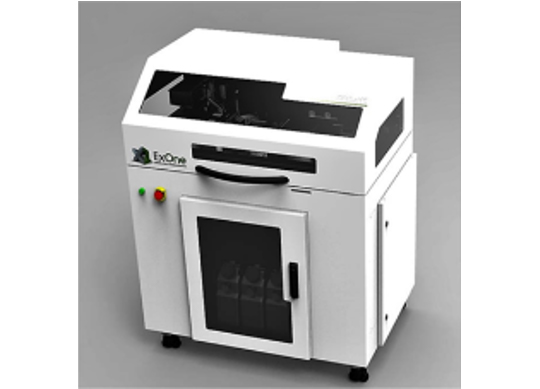 Binder-jetting-system metal powder 3D printer that produces and dries green bodies. This printer uses very fine powder (< 25 μm) which results in cleaner surfaces compared with an ordinary PBF system. The printer is compatible with Co-based alloy, Ni-based alloy and Fe-based alloy powders.
Molding size: 65 mm x 65 mm x 160 mm
Re-coater heater: 50°C max., 1.8-kW output
Vacuum-constant temperature drying chamber: Green body/powder drying temperature range of 40 to 200°C
Degree of vacuum: 10 Pa, 2.25-W heater output
Inside dimensions: 450 mm x 450 mm x 450 mm
Laser powder 3D printer – FormUp350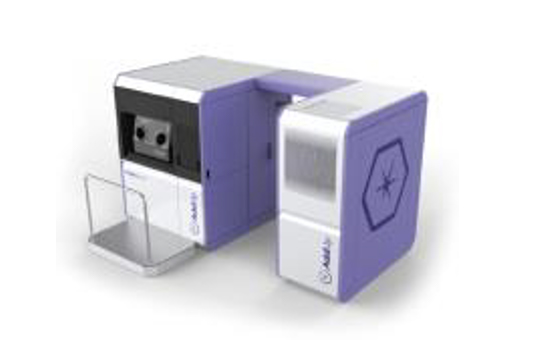 Bed-system metal powder 3D printer which uses fine powder (< 16 μm) to produce high-precision objects with low surface roughness. It can shape an overhang of 10° or more without any support.
Molding size: 350 x 350 x 350 mm
Laser output: 500 W, Yb laser, Ar
Molding thickness: 20 to 100 μm, preheating of 200 to 500°C
Product finishing machine – hermle C32U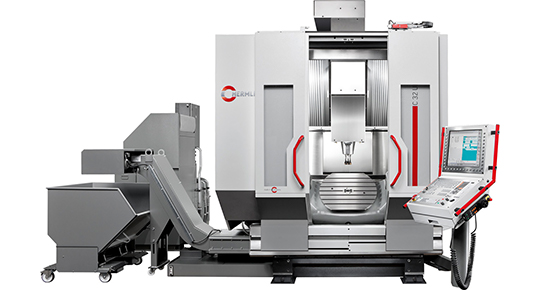 High-precision five-axis processing machine which is a simultaneous five-axis machining center that uses an automatic measuring function for correction and measurement of molding dimensions.
Equipment capacity: Stroke
X axis: 650 mm
Y axis: 650 mm
Z axis: 500 mm
A axis: 0 to ±130°
C axis: 0 to 360°
Repeated positioning accuracy: X-Y-Z axes ≤ 5 μm
Measuring resolution: 0.01 μm X/Y/Z
Molding size: φ320 x 228 (H) mm
High-precision evaluation machines to enable quality assurance control of materials and AM items

Advanced analysis and evaluation equipment: 
•    FE-SEM electron microscopes (with EDS, EBSD)
•    Chemical component ICP emission analyzers
•    LECO oxygen/nitrogen analyzers
•    Macrotack powder grain size distribution analyzers 
•    ATOS 3-dimensional shape measuring equipment
•    Tensile testing machines and others