High-performance powder manufacturing equipment for additive manufacturing (AM)
Additive Manufacturing
Mitsubishi Power's gas nozzle achieves high-precision modeling.
Fine grain size powder is critical for ensuring high shape accuracy in AM applications. Mitsubishi Power has applied the AM technology to create a unique structure for the gas nozzle, the heart of its powder manufacturing equipment, thus improving fine powder yield.
Outline
The unique structure of the gas nozzle, the heart of AM metal powder manufacturing equipment, has reduced powder grain size and improved powder yield rates.
Applications
Small-lot production of micro-fine metal powders such as Ni/Co-based heat-resistant alloys, Cu-based powders and Fe-based powders.
Product Lineup
Dissolution amount of 60 kg

Dissolution amount of 20 kg

Dissolution amount of 5 kg
Mitsubishi Power's high-performance nozzle technologies utilised in the development of improves powder yield rates and machine performance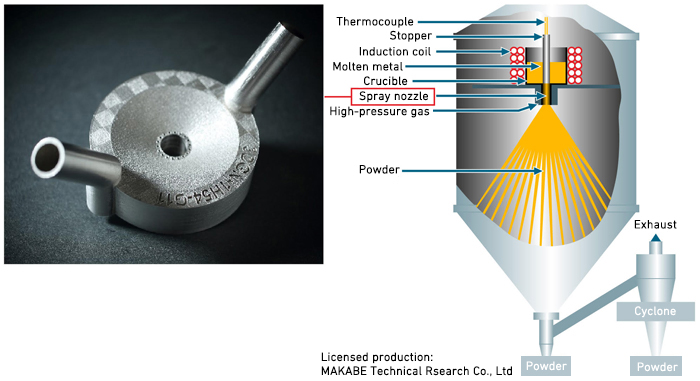 High-performance nozzle for dramatically improved equipment function
Improved equipment performance thanks to the newly developed high-performance nozzle
Improved AM powder yield rates
Easier control of grain size distribution
Compact equipment size for easy cleaning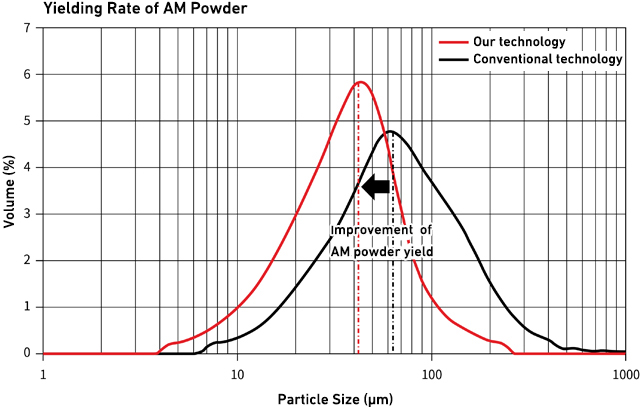 About 20% higher yield rates than conventional technology!