Official Side Event of The Seventh Tokyo International Conference on African Development (TICAD7) Japan Africa Business Forum & EXPO at Yokohama, Japan.

MHPS makes technical contribution to
sustainable growth of African countries.
MHPS participated in the "Japan-Africa Business EXPO" which was held as an official side event of "the 7th Tokyo International Conference on African Development (TICAD7*1)" for 3 days from August 28 through 30, 2019. It was held at the Exhibition Hall in Pacifico Yokohama where the TICAD7 was held. In the venue there were an array of exhibition booths of Japanese companies operating their businesses in Africa as well as African countries' booths. MHPS welcomed many visitors every day throughout the entire three days.
1

Tokyo International Conference on African Development (TICAD)
It is an international conference with the theme of African issues and led in 1993 by the Japanese government and co-sponsored by the United Nations, the United Nations Development Programme (UNDP), the World Bank and the African Union Commission (AUC).
Passionate 3 days with visitors from all over the world
---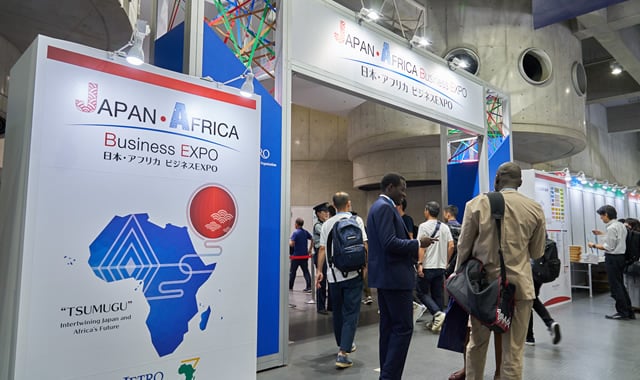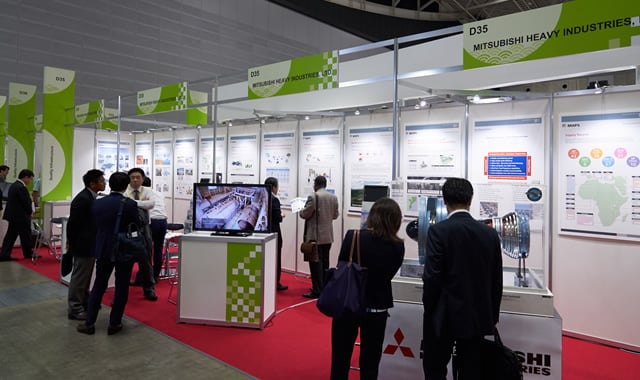 In the exhibition booth, exhibition panels and a miniature model of an aircraft engine were displayed. Also, a monitor screen was set up to play a video for product description (*2). MHPS introduced various technologies with which our company contributes to both the pursuit of economic growth and environmental conservation in African countries, mainly focusing on energy infrastructure that is both highly efficient and has a low environmental impact.
Many of those who visited our booth came from Africa and other countries were highly aware of industrial development and environmental issues in their respective countries.They were very enthusiastic and asked the booth attendants many questions.
2

MHPS exhibited our panels and promoted our products in the booth of Mitsubishi Heavy Industries Group.
Model aircraft engine attracts visitors
---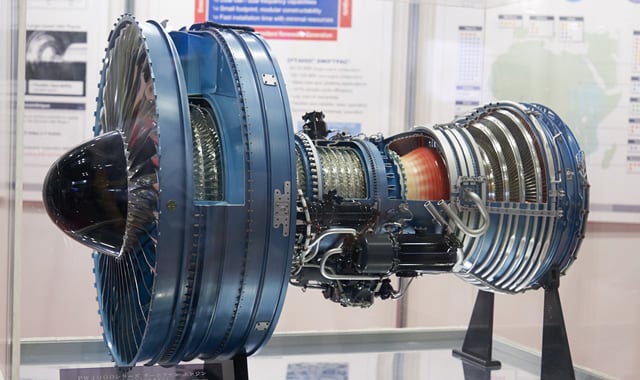 The most eye-catching items in the booth were a model aircraft engine and an explanation about the aero-derivative gas turbine power generation facility where this technology is being used. So far, over 2,000 aero-derivative gas turbines of MHPS Group PW Power Systems have been sold around the world since 1961. Among them, "FT4000R" and "FT8R" are compact lightweight products that are very reliable. They enable smooth transportation/installation and prompt startup and load transition. They are currently being utilized in developing areas and urban areas that are prone to power shortages as a distributed type of power source.
Various advanced technologies that promote economic growth and supports infrastructure in African countries
---
In the exhibition booth, MHPS proposed solutions to secure a dispersed power source in a stable way. In light of the infrastructure situation in African countries, the exhibits included middle- and small-power gas turbines for power stations, as well as coordination with regenerable energy power generation that can be used in combination with battery-type power supply units. In addition, in order to aid the reduction of the impact on the environment, MHPS also introduced air quality control system (AQCS) which includes flue gas desulfurization (FGD) and is the world leader in this field. MHPS also introduced gas turbine power generation using hydrogen as fuel which is expected to become a next-generation clean energy. These are a few of the many advanced technologies introduced.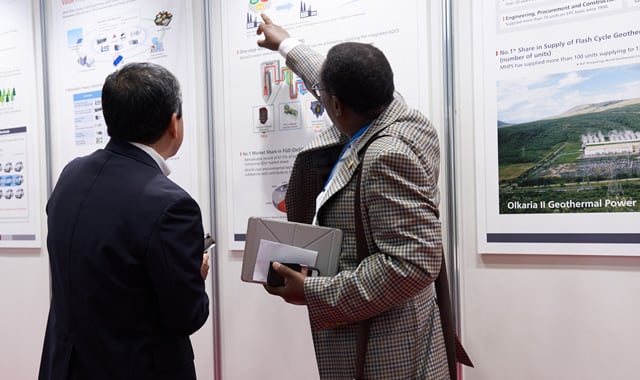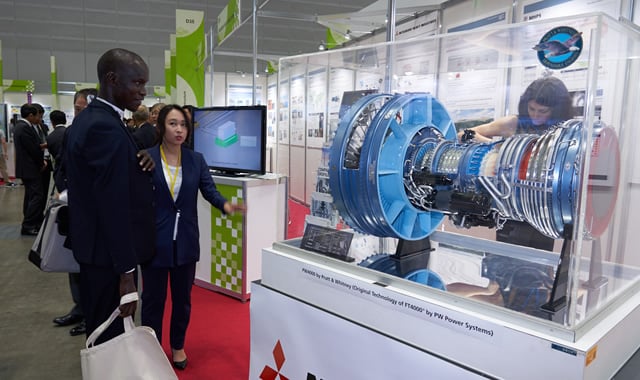 Active promotion of MHPS's contribution to Africa
---

Furthermore, MHPS introduced power generation facilities which have already been delivered to various places in Africa. These achievements include geothermal power generation facilities, including Olkaria Geothermal Station which was constructed in the Great Rift Valley in Kenya. We demonstrated our active contributions to the power market in Africa.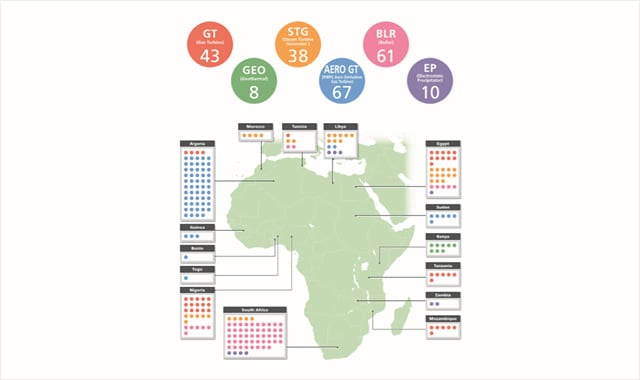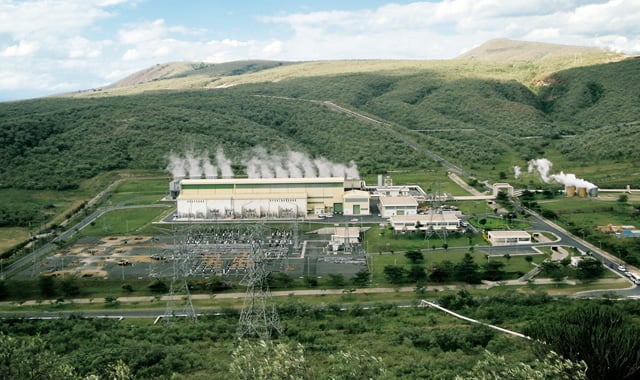 Good feedback on MHPS from guest interviews
---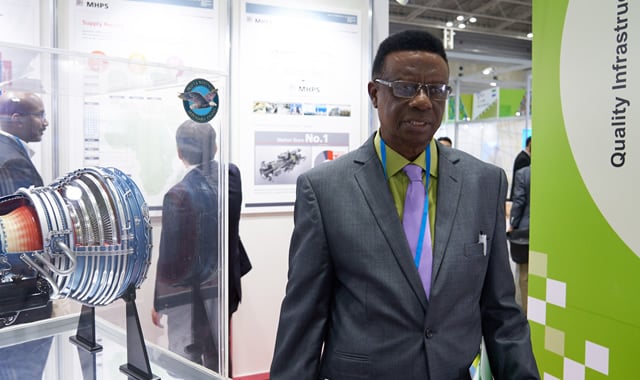 We interviewed some people who visited the booth about the challenges they currently face, their expectations for Japanese companies to solve those challenges, and their impressions of MHPS.
A guest from Kenya said that he was impressed that MHPS's geothermal power generation facilities had been delivered for the Olkaria Geothermal Power Generation project established in the Great Rift Valley in Kenya. He also mentioned that he expected there would be coordination with renewable energy from small mobile power generation units.
Another Kenyan who works for an environment-related company said that he was impressed by our technologies to reduce environmental impact. He was particularly impressed with the flue gas desulfurization (FGD) aimed to reduce sulfur oxide (SOx) and showed great appreciation for these technologies that have a major effect on reducing the environmental burden in Africa.
Through these and other visitors' comments, we were able to gain a sense of how they evaluated this event as well as previous efforts made by MHPS. We also learned what they anticipated for our future contributions.
MHPS introduces projects in Tunisia and Egypt at "G20 Compact with Africa Seminar"
---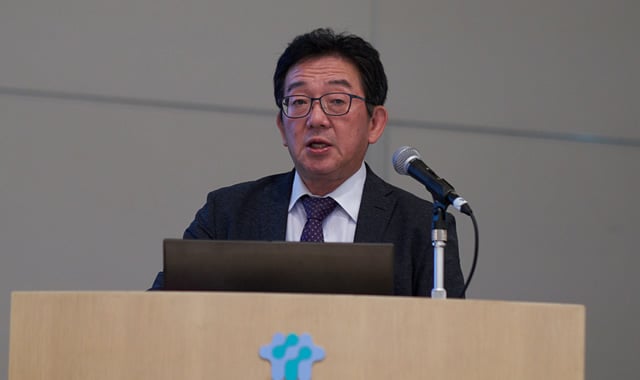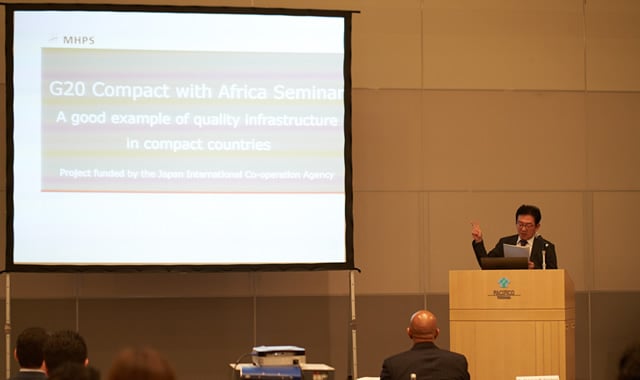 "G20 Compact with Africa Seminar," a side event of TICAD7, was held on August 29 during the conference. MHPS's Tetsushi Mizuno, Deputy Head of Business Headquarters and General Manager of International Sales and Marketing Dept., gave a presentation on the power generation plant projects in Tunisia and Egypt funded as yen loans by Japan International Cooperation Agency (JICA) (Official Development Assistance: ODA).
In the project in Tunisia, he introduced the construction of a highly efficient power generation facility in response to growing electric power demand in the country. Furthermore, the maintenance agreement including operational support was concluded even though it was not in the scope of the ODA in order to continue long-term support even after the delivery and to make further contributions in the future.
The Egypt project was to upgrade the current power generation facility and improve output power and efficiency of the power generation facility. He explained that, in this project, MHPS were expected to contribute to economic and social development in Egypt, as well as stabilize the power supply throughout the country. Furthermore, when he mentioned that this yen-loan-financed project by JICA led to other projects without ODA support, the project drew attention as a case project for the creation of business opportunities for private companies.
H.E.M. Andry Nirina Rajoelina, President of Republic of Madagascar, visits MHPS's booth
---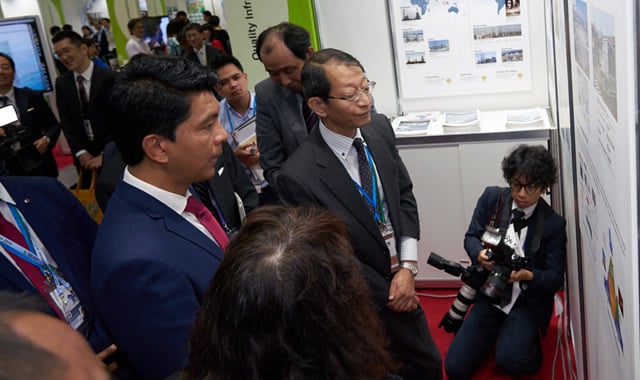 On August 29, the second day of the conference, H.E.M. Andry Nirina Rajoelina, President of the Republic of Madagascar, visited MHPS's booth. MHPS introduced our products and technologies both large and small, as well as some projects which were currently under way in Africa, and so on.
Although MHPS have been involved in a number of projects in African countries, MHPS have not yet in engaged in projects in the Republic of Madagascar. Madagascar is well known as an island inhabited by various different unique indigenous plants and animals. There is much expectation for MHPS's technological contribution to the environmental issues and stable power supply in this country.
[At the end of the conference]
As a momentum to establish the Win-Win relationship between Japanese companies and people in African countries
---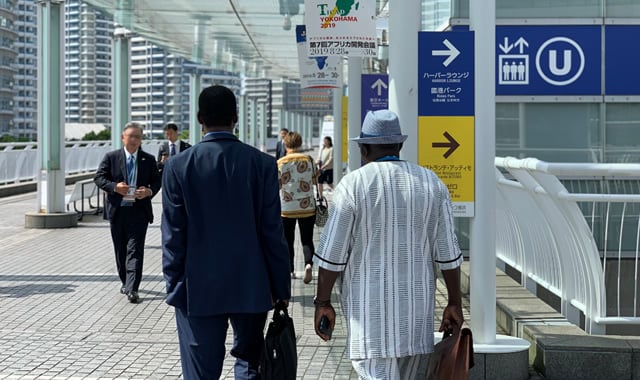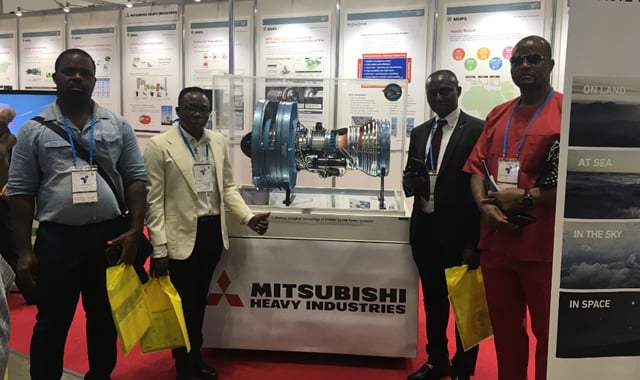 At the end of three days, the conference and side events crowded with visitors from all over the world ended. African countries anticipate, among other things, that Japanese companies contribute to the creation of new jobs, human resource development, an increase in income, infrastructure improvement that incorporates a stabilized power supply and a reduction of the burden on the environment.
We are determined to establish a Win-Win relationship with people in African countries built on a long-term relationship of trust through advanced technologies and green engineering of MHPS and other Japanese companies. We plan to grow and develop together with them.
---