H-100 Gas Turbine & Low NOx Combustion System Receives Full Mechanical Drive Qualification by Shell
Mitsubishi Heavy Industries, Ltd.
Mitsubishi Hitachi Power Systems, Ltd
Mitsubishi Heavy Industries Compressor Corporation
Tokyo, March 12, 2018 - The industry leading 119.9MW H-100 gas turbine, packaged for mechanical drive applications under the partnership of Mitsubishi Heavy Industries, Ltd. (MHI), Mitsubishi Hitachi Power Systems, Ltd. (MHPS) and Mitsubishi Heavy Industries Compressor Corporation (MCO) has achieved full qualification status by Shell's Technical team based in The Hague.
In August 2017, MHPS embarked on a rigorous testing regime to validate the mechanical drive performance of their 2-shaft 119.9MW H-100 Gas Turbine equipped with their low NOx (single digit ppm) combustion system. After successful completion of testing protocol and a detailed technical review by their qualification team, Shell announced their official qualification of the MHPS gas turbine on December 22, 2017. This followed Shell's earlier qualification of the MHPS 107.7MW H-100 gas turbine in 2015. Shell has already qualified Mitsubishi Compressors by Enterprise Frame Agreement effective in 2011, clearing the way for MHPS and MCO to supply all components for future Shell LNG compression systems.
Upon receiving notification from Shell, MHI President & CEO Shunichi Miyanaga commented, "This milestone in the continued development of the H-100 gas turbine underscores Mitsubishi's competitiveness as the main driver for world-scale LNG liquefaction trains and complements the H-Series strong position in the thermal power plant market. Our goal is to provide our customers with high reliability and productivity, while reducing emissions, complexity, and the overall cost of LNG production."
The heavy-duty H-100 Gas Turbine also offers best in class efficiency and reliability with low-maintenance. Benefits of the two-shaft gas turbine for LNG mechanical drive applications include a broad variable-speed operating window, train restarts under settle-out pressure. H-100 gas turbine also adds the benefit such as shortened start-up time and a significantly reduced plot size.
Mitsubishi Heavy Industries Group will further integrate and expand the diverse product and technology lineup of its energy and oil & gas business to meet market needs.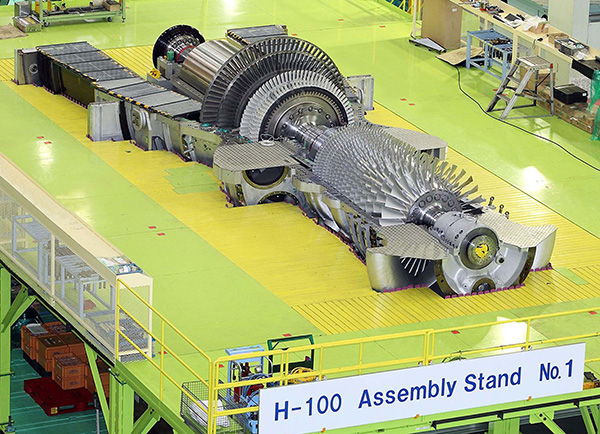 ---