MHPS Achieves Japan's Highest Biomass Cofiring Ratio of 34% at 112 MW Coal-Fired Power Plant -- Feat Achieved Using Wood Pellet Fuel at Soma Energy Park in Fukushima Prefecture --
・ Heat value ratio near 35% at rated load, unprecedented at 100 MW-class facility
・ 50% ratio at partial load, with still higher ratios possible
YOKOHAMA, JAPAN (March 29, 2018) - Mitsubishi Hitachi Power Systems, Ltd. (MHPS) has successfully achieved a wood pellet biomass fuel(Note1) mixing ratio of 34%, in heat value, at a pulverized coal-fired power generation facility. The cofiring test was conducted at the 112MW power plant in Soma City, Fukushima Prefecture. Construction of the facility was completed on March 26 by MHPS for Soma Energy Park LLC. This was the first time in Japan that a biomass cofiring ratio near 35%, at rated load, was reached at a large-scale pulverized coal-fired power plant in the 100 MW class.
The biomass cofiring test was launched in January 2018. It was initially confirmed that stable power generation was possible with a 30%(Note2) biomass mixing ratio, as planned when the facility was designed. The test also demonstrated that a mixing ratio of 34% was achievable at rated load, along with a 50% ratio at partial load. These results showed that, compared to coal firing, use of biomass-mixed fuel enables a reduction in CO2 emissions of over 30%.
The biomass cofiring power plant, known as Soma Energy Park, is operated by Soma Energy Park LLC. In 2014 MHPS was contracted to perform engineering, procurement and construction (EPC) as a member of a consortium that also included MHPS Environmental Solutions, Ltd. and Mitsubishi Electric Corporation. MHPS manufactured and supplied the coal-biomass mixed-combustion boiler, steam turbine, FGD (fuel gas desulfurization) and SCR(selective catalytic NOx reduction) systems.
The boiler is equipped with three combustion processes. By switching from coal to biomass as the fuel for one of those processes, biomass cofiring operation is possible without major change of equipment. In addition to biomass cofiring tests in Soma, combustion tests carried out separately at MHI's Research & Innovation Center have confirmed that the ratio of biomass can be further raised up to 100%. Besides application in new boilers, this capability can also be applied to modify existing boilers to allow a high biomass mixing ratio.
In the field of coal-fired power generation, in addition to supercritical and ultra-supercritical high-efficiency power generation technologies, MHPS will focus on enhancing renewable energies that enable mixed combustion with high biomass ratios, as a way of contributing to easing environmental burdens and reducing CO2 emissions.
1

Biomass fuel absorbs CO2 by photosynthesis during the growth process. For that reason, under the Kyoto Protocol it is treated as a fuel that emits no CO2.

2

Biomass mixing ratios are ratios in terms of heat value, not weight.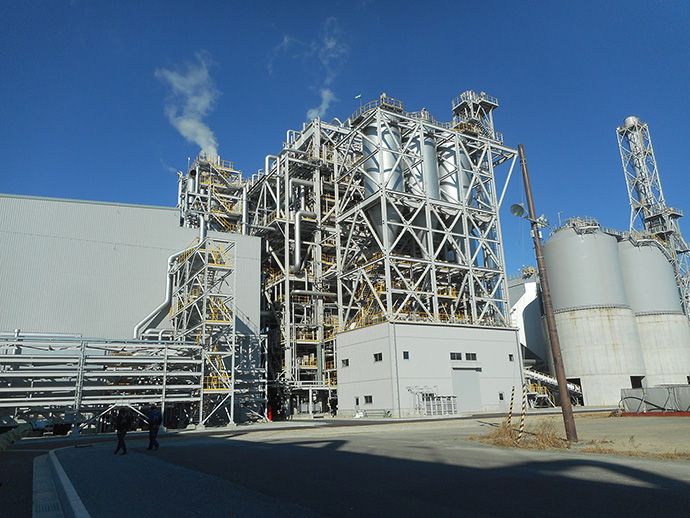 ---