Natural-gas-fired Power Plant Operated by Indonesia's State-owned Power Provider Goes into Operation -- MHPS Completes Unit 1 construction of "Jawa-2 Project" Ahead of Schedule --
・ Unit 1 of 880 MW GTCC power generation facility starts operating as simple cycle system
・ Current output approx. 300 MW; combined cycle system to launch in 2019
YOKOHAMA, JAPAN (June 12, 2018) - Mitsubishi Hitachi Power Systems, Ltd. (MHPS) has completed unit 1 construction of a natural-gas-fired power generation facility being built in Indonesia on Java Island within the premises of the Tanjung Priok Power Plant by PT. PLN (Persero), Indonesia's state-owned electricity provider. Under the "Jawa-2 Project," PLN plans to construct an 880 megawatt (MW) plant comprising two gas turbine combined cycle (GTCC) power generation systems. Unit 1 has initially gone into operation as a simple gas turbine system, with output currently near 300 MW. This demonstrates the steady progress of "Jawa-2 Project".
A ceremony was held at the site to mark the start of operations. Attending as PLN's representative was Director W.S. Haryanto, who oversees company operations in all of West Java Region, including the Jawa-2 Project.
"We appreciate MHPS' enormous efforts for this project. We are sure that the strong relationship between PLN and MHPS will continue in the future. As a result, the operation of unit 2 as a simple gas turbine and combined cycle operation will also begin as contracted delivery schedule." said Mr.Haryanto.
This project is to be constructed at Tanjung Priok, a port city approximately 10 km northeast of central Jakarta, the nation's capital. The full-turnkey order for the power plant was received by MHPS in partnership with Mitsubishi Corporation and PT. Wasa Mitra Engineering, a local construction and engineering firm. MHPS is responsible for providing two M701F gas turbines as well as two exhaust heat recovery boilers, one steam turbine, and auxiliary equipment. Mitsubishi Electric Corporation supplied the generators. The launch of operations as a GTCC system, generating power by gas turbine and by a steam turbine utilizing recovered exhaust heat, is slated for 2019.
This project is part of a 35,000 MW power expansion program under way by the Indonesian Government to meet the country's rapidly increasing demand for electric power along with the economic growth. Being able to contribute to completing unit 1 construction ahead of schedule is a further momentum for the project promotion.
MHPS is the leading supplier in large-scale gas turbines in Indonesia and has a track record of nearly 50 years supporting that country's power supplies. Even in this project, MHPS is also engaging its total resources toward improving customer satisfaction.
MHPS is aiming to further enhance its presence within Indonesia's power market. Going forward, through the expanded adoption of high-efficiency power generation facilities, the company will continue making robust contributions to promoting effective use of resources and reducing environmental loads on global scale.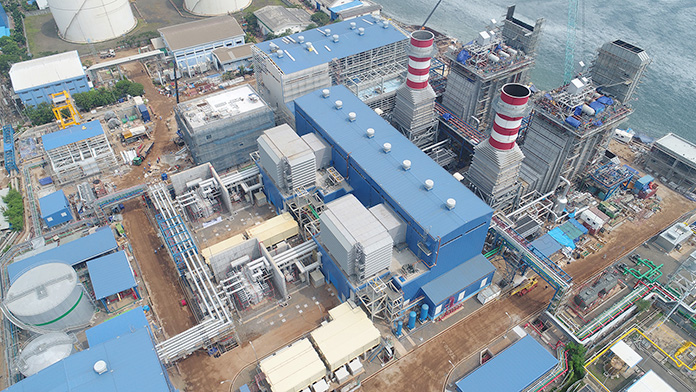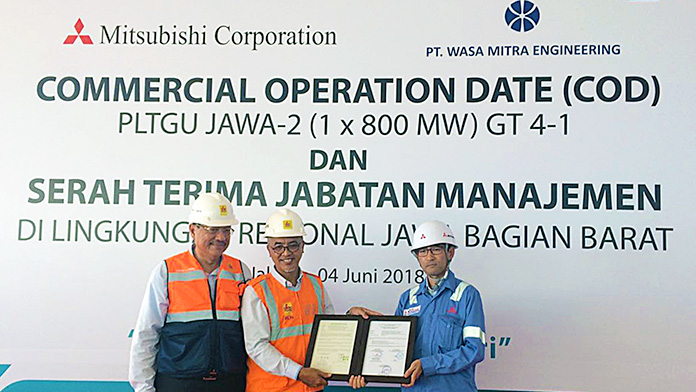 ---