Mitsubishi Hitachi Power Systems Holds Advanced Technology Seminar in Kuwait -- The Seminar to showcase the World's Leading Advanced Technologies in Power Generation Systems, Advanced Hydrogen Technologies, and Digital Solutions --
・ More than 150 participants to attend including Kuwaiti MEW officials, IPP and EPC representatives
・ Presentation of solutions utilizing the latest technologies to ensure a stable energy supply in Kuwait
YOKOHAMA, JAPAN (April 09, 2019) - Mitsubishi Hitachi Power Systems, Ltd. (MHPS) held an advanced technology seminar on April 8 in Kuwait City, centered on gas turbine combined-cycle power generation systems. The increasing demand for electricity, the desire to introduce natural gas as the fuel of choice and the need to provide reliable power are essential to implementing the government's priority to significantly reduce its dependence on oil and drive diversification of the power sector.
In response, MHPS held this technology seminar, inviting officials from Kuwait's Ministry of Electricity and Water (MEW), as well as representatives from the independent power producers (IPPs) who have been at the forefront of addressing the country's growing demand for power, and members of the engineering, procurement and construction (EPC) industry. MHPS presented the latest high-efficiency technologies and advanced hydrogen technologies, as well as MHPS-TOMONI™, its digital solution to optimize the operations of power generation facilities.
The event was held at the Jumeirah Messilah Beach Hotel & Spa, and attended by over 100 representatives of Kuwait's power industry, including MEW Undersecretary H.E. Mohammed Boshehri. Japanese Ambassador to Kuwait Takashi Ashiki also attended as a representative of Japan. MHPS Senior Executive Vice President Akimasa Muyama gave the opening address.
Vice President Muyama stated in his address, "Kuwait's electric power business is currently in the midst of transformation. Replacing oil-fired plants with natural gas or renewable energy will reduce or eliminate carbon. The increase in renewable energy requires addressing the issue of power system stability. MHPS', latest generation of gas turbine technologies combined with MHPS digital solutions are capable of ensuring a stable energy supply for Kuwait."
The seminar focused on MHPS' gas turbine technologies with 100MW and above, for which MHPS held the top global market share through 2018. Also highlighted were carbon free hydrogen fueled gas turbines, and "MEGAMIE," a hybrid system combining solid oxide fuel cell (SOFC) with micro gas turbines. Also featured were MHPS TOMONI and AI solutions which together will enhance power plant operations with the aim of autonomous operation. Other topics included discussion on MHPS' installed footprint in the region, and MHPS projects that have contributed to Kuwait's energy sector.
MHPS, through such technology seminars, will offer environmentally-friendly advanced power generation technologies and contribute to the economic development of those communities we operate in around the world.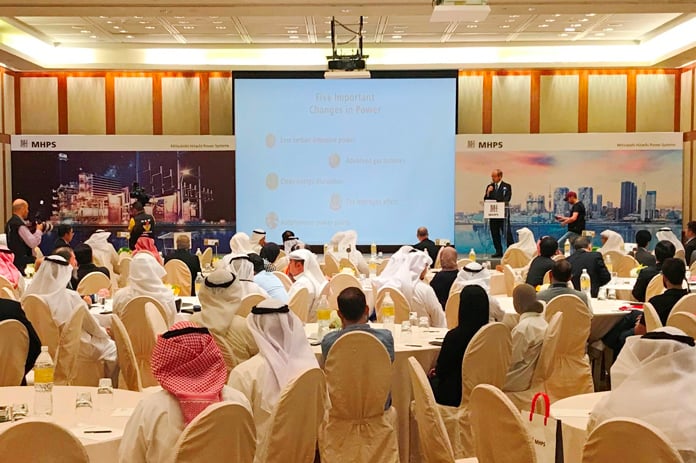 ---