MHPS Exceeds 9,000 Units Shipped of Control Panels for Thermal Power Plant Operation Control Systems -- Manufactured at MHPS Nagasaki Works, 9,000th Unit for Control System Renovation at the Phu My Power Plant in Vietnam --
・ Electronics Shop established in 1993, providing sophisticated integration through design, manufacture, and testing
・ Solutions to closely match customer needs for each process, from order to on-site handover
YOKOHAMA, JAPAN (August 21, 2019) - Mitsubishi Hitachi Power Systems, Ltd. (MHPS), on August 8, reached a new milestone for its control panels(Note) used mainly for operation control systems at thermal power facilities, with a cumulative total of 9,000 units shipped. The 9,000th unit shipped was for a control system renovation project at the Phu My Thermal Power Plant, a natural gas-fired gas turbine combined cycle (GTCC) facility currently in operation near Ho Chi Minh City in Vietnam. An event to celebrate the shipment was held at the Nagasaki Works (Nagasaki City) where the units are manufactured.
MHPS launched a program in the 1980s for in-house development of control systems to enhance the efficiency and reliability of thermal power plant operations. MHPS has pursued sophisticated integration through the design, manufacture, and testing of "DIASYS Netmation®" (Digital Intelligent Automation SYStem), a distributed control system (DCS) that meets standards for high system reliability and availability, incorporates the extensive operational know-how and control technologies accumulated by MHPS as a thermal power facilities manufacturer.
As part of this effort, the Electronics Shop was installed at the Nagasaki Works in 1993. This section conducts control system design and testing, and has produced numerous units in Japan and overseas for a wide range of facilities, including thermal power plants, geothermal power plants, integrated coal gasification combined cycle (IGCC) power facilities, fuel cell combined cycle power facilities, and seawater desalination plants, as well as systems for ships. The advantage offered by MHPS is the ability to provide total solutions that closely match customer needs throughout the entire work process, from receipt of order to on-site final adjustments and test operations.
In January 2019, the Remote Monitoring Center (RMC) was established in the Nagasaki Works to provide remote support for power generation plants in Japan and overseas. Collaboration with the control system testing facilities in the Electronics Shop creates an environment to conduct simulation verification combining thorough trial operation adjustment support and plant models.
Going forward, MHPS will focus on providing upgrades for control systems as preventative maintenance after 10-15 years in operation, and will build a framework to allow for long-term maintenance support of systems, including upgrades to Windows OS and safer systems as cybersecurity measures, and connectivity with the latest high-efficiency thermal power generation technologies and the MHPS-TOMONI™ digital solution to optimize generating facility operations, in order to contribute to safer and more highly reliable plant operations.
Control panel is to control all of power plant's equipments, and it consists of some CPU and Process Input / Output panels per plant.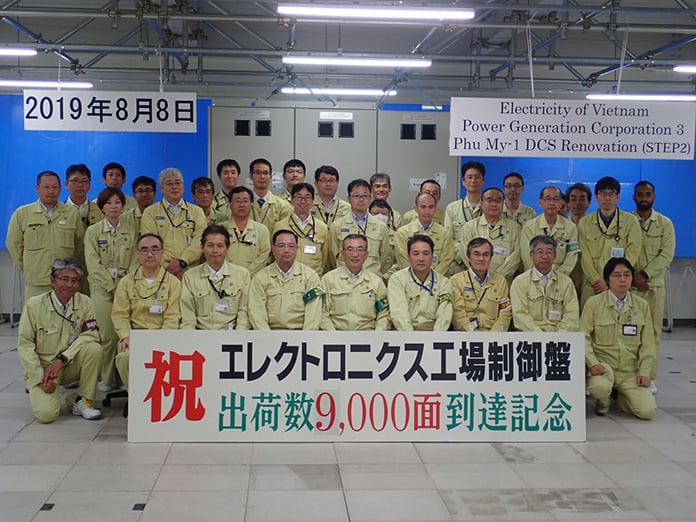 ---