MHPS Receives the Chairman's Award at the Cogeneration Awards 2019 for MEGAMIE -- Integration of SOFC and MGT Achieves High Efficiency, Developing the Institutional and Industrial-use Market --
・ Top prize received in the Technology Development Category, commercialization achieved by combining the emerging SOFC with MGT
・ CO2 emissions reduced by half compared to conventional power generation systems, contributing to low carbonization
YOKOHAMA, JAPAN (February 10, 2020) - Mitsubishi Hitachi Power Systems, Ltd. (MHPS), has received the top Chairman's Award in the Technology Development category at the "Cogeneration Awards 2019" sponsored by the Advanced Cogeneration and Energy Utilization Center Japan (ACEJ, Takao Kashiwagi, Chairman). MHPS received the award for MEGAMIE, its pressurized hybrid power generation system combining solid oxide fuel cells (SOFC) with a micro gas turbine (MGT). MEGAMIE achieves high efficiency as a distributed cogeneration system by integrating SOFC and MGT, and has been well received, carving out a position in the institutional and industrial-use market. The award ceremony was held on February 7 in Tokyo.
MEGAMIE uses city gas as fuel, generating electricity with both ceramic SOFC stacks that operate at a high temperature of around 900℃, and a MGT. City gas is reformed within the SOFC stacks to extract hydrogen and carbon monoxide, producing a chemical reaction with the oxygen in the air that generates electricity. The MGT also generates power in the post-process using the leftover gas from the SOFC, ensuring efficient fuel utilization. When used in a cogeneration system, residual exhaust heat is recovered as steam or hot water, increasing overall efficiency to more than 65% and 73%, respectively. Compared to conventional power generation systems, CO2 emissions can be reduced by nearly half, contributing to the realization of a low-carbon society. Various types of fuel gas can also be used to generate electricity instead of city gas, including digestion gas generated by microbial fermentation of sewage, biomass methane derived from food and drink plants, hydrogen from electrolysis of water, and a mixture of city gas and hydrogen. This feature is expected to make a significant contribution to promoting the adoption of renewable energy.
The first commercial-use MEGAMIE system began operations in February 2019 as an in-house co-generation system for Mitsubishi Estate's Marunouchi Building in Tokyo, providing continuous stable operation and contributing to the realization of a low-carbon society. The second system is scheduled for installation at Hazama Ando Corporation's technology research center in Tsukuba, Ibaraki Prefecture. MHPS has continued to push to expand the market for institutional and industrial-use fuel cells.
The ACEJ was established in 1984 with a round-table conference of companies and research institutions involved in cogeneration. It adopted its current name in 2011. The Cogeneration Awards have been held annually since 2012, with the aim of raising awareness in society of the effectiveness of cogeneration, and promoting adoption. This is the eighth year for the award, with 15 prizes presented in the Consumer, Industrial Use, and Technology Development categories.
Going forward, MHPS will utilize the momentum from this award to advance its proposal-based sales to promote wider adoption of institutional and industrial-use fuel cells, while also working to further enhance the performance and convenience of SOFC and MGT hybrid systems, and contribute to energy creation appropriate for a low-carbon, carbon-free society.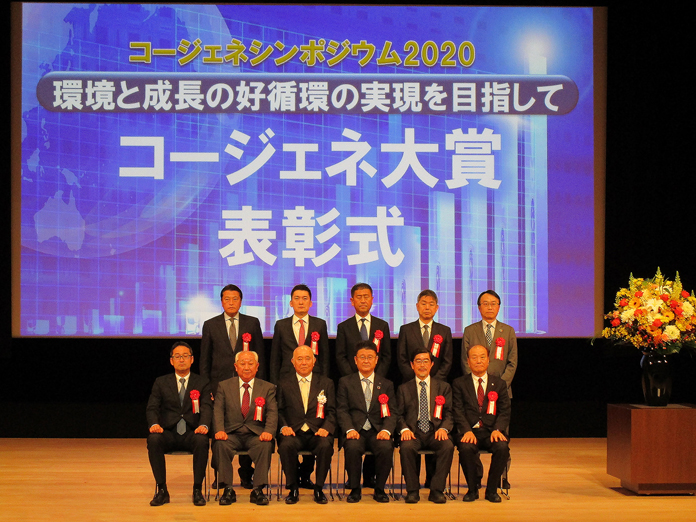 ---