Mitsubishi Hitachi Power Systems Commences Operation, Aims to Become Global Leader in Thermal Power Generation Systems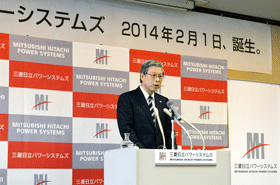 Tokyo, February 3, 2014 - Mitsubishi Hitachi Power Systems, Ltd. (MHPS), a thermal power generation systems company jointly established by Mitsubishi Heavy Industries, Ltd. and Hitachi, Ltd., today announced its launch and commencement of business operations on February 1. MHPS was created through integration of the two parent companies' thermal power generation system divisions, which both possessed wide product range. MHPS aims to be No.1 in the world in the thermal power generation systems market, where significant expansion of demand is expected globally.
MHPS operates in the global market centering on the field of thermal power generation systems, including gas turbines, steam turbines, boilers, and coal gasification systems. The company' s business also includes geothermal power generation systems, Air Quality Control Systems (AQCS), and fuel cells.
One of MHPS greatest strengths is its ability to provide comprehensive solutions across the entire spectrum of thermal power generation. In the area of gas turbines, one of the core products in this field, MHPS offers a wide range of products that includes high-efficiency, high-capacity gas turbines, which MHI has long focused on, as well as medium-capacity and small-capacity units, which Hitachi has extensively developed. In addition, MHPS will also synergistically take advantage of parent company strengths in other product and service areas to overcome fierce competition in the global market and utilize its strengths in meeting a wide variety of needs in the thermal power generation market.
Global demand for improvements in infrastructure including power generation is growing rapidly, due in part to the rise of emerging nations. In addition, environmental technologies are increasingly in demand as nations strive to address global energy and environmental conservation issues.
MHPS is ideally positioned to meet this global demand with various types of high-efficiency thermal power generation systems and related services, including gas turbine combined cycle (GTCC) power generation systems that offer one of the cleanest methods of fossil fuel power generation. Going forward, MHPS intends to support infrastructure building and global efforts to conserve energy and environmental resources with a continually expanding range of products and services.
Outline of Mitsubishi Hitachi Power Systems, Ltd. (MHPS)
Head office: 3-1, Minato Mirai 3-chome, Nishi-ku, Yokohama, Kanagawa
Representative: Takato Nishizawa, President and CEO
Capital: 100.0 billion yen
Number of employees: approx. 11,000 (MHPS direct); approx. 23,000 (consolidated)
Summaries of messages from the chairman and president of MHPS to employees on the occasion of business commencement are attached.
---