Mitsubishi Hitachi Power Systems Receives Order from ScottishPower for Long-term Service of GTCC Power Generation Plant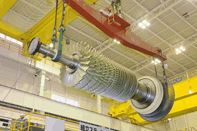 Tokyo, February 7, 2014 - Mitsubishi Hitachi Power Systems, Ltd. (MHPS) has received an order from ScottishPower Ltd., a major utility company in the U.K., to provide long-term service to a natural gas-fired gas turbine combined cycle (GTCC) power generation plant at the ScottishPower Damhead Creek Power Station. Based on the 12-year, long-term service agreement (LTSA), MHPS will contribute to stable, high-availability operation of the facility by providing maintenance, management, parts supply and remote monitoring services for the gas turbines that are a core component of GTCC power generation systems.
MHPS received the order through Mitsubishi Hitachi Power Systems Europe, Ltd., an MHPS group company in the U.K. The gas turbines in the 792 MW (megawatt) GTCC plant at Damhead Creek Power Station were delivered by Mitsubishi Heavy Industries, Ltd. in 2000.
ScottishPower is a public utility based in Glasgow, Scotland, that supplies electricity and gas throughout the U.K. The company operates gas-fired, coal-fired and hydro power generation plants, and is also engaged in renewable energy development through a variety of wind, wave, and tidal energy projects. ScottishPower is part of Ibeldrola of Spain, a global energy company.
GTCC power plants generate electricity in two stages through the combined use of gas and steam turbines. By using high-temperature exhaust from the gas turbine to produce steam that drives the steam turbine, combined cycle power plants achieve higher thermal efficiency, lower fuel consumption, and lower emissions.
In addition to delivering numerous GTCC power generation systems at home and abroad, MHPS has a proven track record in system maintenance, repair, and management services that has won the trust of customers worldwide.
In recent years, power producers have turned to seeking long-term maintenance services in order to ensure stable and reliable operation of their plants, and they are increasingly opting for LTSA contracts. Going forward, MHPS will continue to regard LTSA contracting as a pillar of its service business, and will strive to respond even more precisely to the market' s diversifying needs with the most cost-efficient and reliable systems.
---