MHPS Receives Lump-sum Full Turnkey Order For Coal-fired Power Generation Plant in the Philippines In Collaboration with Daelim Industrial of Korea
Yokohama, June 2, 2014 - Mitsubishi Hitachi Power Systems, Ltd. (MHPS), working jointly with Daelim Industrial Co., Ltd. of Korea, has received a lump-sum, full turnkey order to build a 420 megawatt coal-fired power generation plant at the Pagbilao coal-fired power generation station in Quezon province in the Philippines. The order, which is for the third such coal-fired unit at the site (Pagbilao Unit 3), was placed by Pagbilao Energy Corp., the company undertaking the said project. The new power plant is slated to go on-stream in November 2017.
Pagbilao Unit 3, which is to be built adjacent to the existing Units 1 and 2 in Pagbilao, will use sub bituminous coal for its fuel. When completed, the new plant will help supply electricity to support the nation's robust power demand and future economic expansion.
Pagbilao Energy is an equally-owned joint venture between subsidiaries of TeaM Energy Corporation and Aboitiz Power Corporation. TeaM Energy is also an equally-owned power generation joint venture between Marubeni Corporation and Tokyo Electric Power Company, Incorporated. Aboitiz Power is the holding company for the Aboitiz Group's investments in power generation, distribution, retail and power services.
Coal-fired power plants mainly consist of boilers, steam turbines and generators. For Pagbilao Unit 3, MHPS will be responsible for the supply of these major components, as well as the control systems, flue gas desulfurization (deSOx) systems and other key components. Daelim Industrial will undertake the supply of BOP (balance of plant) equipment, including coal handling systems and peripheral equipment, and civil engineering and installation work.
MHPS will leverage its ability to provide full-range product portfolios and thermal power generation system solutions through the proven expertise of Mitsubishi Heavy Industries and Hitachi in this field. MHPS will also continue to aggressively pursue a global leadership position in thermal power generation systems, and respond to the market's varied and diverse needs.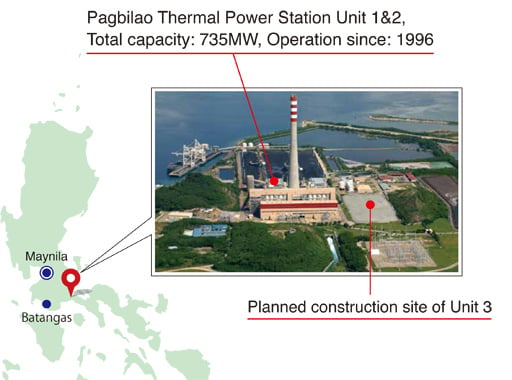 ---