Order for GTCC Power Generation Plant at Hokuriku Electric Power Company's Toyama Shinko Thermal Power Station -- High-Efficiency Power Generation System Using M501GAC Gas Turbine and SRT-50 Steam Turbine--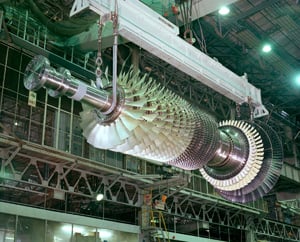 Yokohama, June 10, 2014 - The consortium comprised of Mitsubishi Hitachi Power Systems, Ltd. (MHPS) and Mitsubishi Electric Corporation has received an order to build a 427 megawatt (MW) natural gas-fired, gas turbine combined cycle (GTCC) power generation plant from Hokuriku Electric Power Company at the utility's Toyama Shinko Thermal Power Station. The high-efficiency GTCC power plant on order will incorporate an M501GAC gas turbine at its heart, and is slated to go on stream in the fiscal year 2018, the year ending March 31, 2019.
The GTCC power plant on order will primarily consist of an M501GAC gas turbine, an SRT-50 steam turbine, a heat recovery steam generator, and a generator. MHPS will be responsible for manufacture, supply and installation of the gas and steam turbines, etc.
The M501GAC gas turbine is one of the most efficient, large-capacity gas turbines in the world. To date MHPS has received orders for more than 80 units of its G series worldwide, of which 18 units are M501GAC, including 13 units in North America. MHPS believes that the current order reflects this excellent track record, as well as the M501GAC gas turbine's reputation for superior performance. The next generation SRT-50 steam turbine adopts high-strength 50-inch blades at turbine end and will enable further enhancement of performance and capacity.
GTCC power plants generate electricity in two stages through the combined use of gas and steam turbines, with high-temperature exhaust from the gas turbine utilized to produce the steam that drives the steam turbine. MHPS has previously supplied numerous number of GTCC power generation systems to customers in Japan and overseas, and enjoys a solid reputation for its technological expertise and delivery track record. Going forward, MHPS looks to further strengthen its marketing activities for GTCC power generation systems and components that contribute to effective resource utilization and reduced environmental impact.
MHPS will leverage its ability to provide full-range product portfolios and thermal power generation system solutions through the proven expertise of Mitsubishi Heavy Industries and Hitachi in this field. MHPS will also continue to aggressively pursue a global leadership position in thermal power generation systems, and respond to the market's varied and diverse needs.
---