MHPS Signs Gas and Steam Turbine Operation and Maintenance Services MOU with Two Indonesian Power Producers and Mitsubishi Corporation
Yokohama, June 25, 2014 - Mitsubishi Hitachi Power Systems, Ltd. (MHPS) has signed a memorandum of understanding (MOU) with two Indonesian power generation companies -- PT. Pembangkitan Jawa Bali (PJB) and PT. Indonesia Power (Indonesia Power) -- and with Mitsubishi Cooperation (MC), under which MHPS will collaborate in providing operation and maintenance (O&M) services for gas and steam turbines.
A signing ceremony for the MOU was held at Indonesia Power's head office in Jakarta, attended by Amir Rosidin, President of PJB; Iwan Santoso, President of Indonesia Power; Naoto Yoshimura, General Manager for Special Task of Power Systems International Department, New Energy & Power Generation Division at MC; and Ken Kawai, Senior Vice President of MHPS.
The four-party MOU is a further development of MOUs that MHPS (Mitsubishi Heavy Industries, at the time), individually signed with PJB-Service and Indonesia Power in 2008. The current MOU expands the scope of services and has been converted to a joint MOU through the inclusion of Mitsubishi Corporation as a signatory. Based on the MOU, the four companies will collaborate on various activities related to gas and steam turbines, including technical training, technology seminar, joint research program and field service. In the future, the four signatory companies intend to consider establishment of a joint venture for field service.
PJB and Indonesia Power, which supply electricity in Java and Bali areas, became independent from PT. PLN (Persero), Indonesia's state-owned power company, in 1995.
Going forward, MHPS hopes to maintain and strengthen its relationship with PJB and Indonesia Power, and further contribute to stable and effective power generation in Indonesia.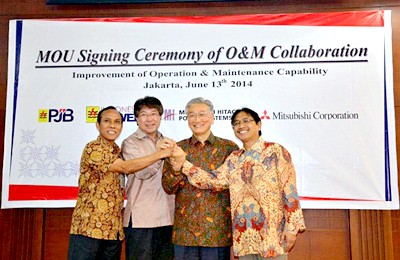 ---