MHPS Receives Order for 4 Sets of Steam Turbines and Generators For APP, Major Pulp and Paper Manufacturer in Indonesia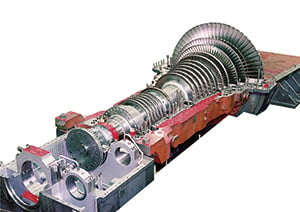 Yokohama, September 9, 2014 - Mitsubishi Hitachi Power Systems, Ltd. (MHPS) has received an order for 4 sets of 125 megawatt (MW) class steam turbines and generators for a paper mill operated by the Asia Pulp & Paper Group (APP), a leading pulp and paper producer in Indonesia. The newly ordered systems will form the core equipment of one of that country's largest pulp and paper mills to be newly established by PT. OKI Pulp & Paper Mills (OKI), an APP group company, as the "OKI Project." Shipments of the equipment on order are slated to commence in September 2015.
The paper mill is to be constructed in Indonesia's South Sumatra state at a total cost of US$2.6 billion (approx. 260 billion yen). Plans call for the mill to have a production capacity of approximately 2 million tons of paper per year.
The steam turbines included in the 4 sets on order will be delivered to the site through China National Machinery Import & Export Corporation (CMC), a state-owned enterprise under direct supervision of China's central government. CMC is planned to provide auxiliary machinery and piping services in the building housing the steam turbines. Two of the 4 steam turbines will be assembled at and shipped from MHPS's Yokohama Works (Kanazawa Area), and the remaining two at Qingdao Jieneng Steam Turbine Group Co., Ltd. (QJST), a joint venture partner located in China's Shandong Province.(Note)
The steam turbines on order, in addition to serving as non-utility power generators to support the new paper mill's operations, will also provide steam that will be partially used in the pulp and paper production processes. Since 1993 MHPS has supplied a total of 14 sets of this type of steam turbine and generator combination to APP's domestic paper mills, and these systems' operating records through more than two decades, as well as their proven reliability, have been highly acclaimed.
Leveraging this latest order, MHPS intends to promote its marketing activities for non-utility generators both in Japan and overseas even more proactively and to contribute to the establishment of industrial infrastructures in countries and regions around the world.
MHPS (Mitsubishi Heavy Industries at that time) and QJST established Mitsubishi Heavy Industries Jieneng (Qingdao) Steam Turbine Co., Ltd. in February 2013. Since then MHPS and QJST are collaborating in engineering and marketing of industrial steam turbines (50-200 megawatt) and the sale of marine turbines.
---